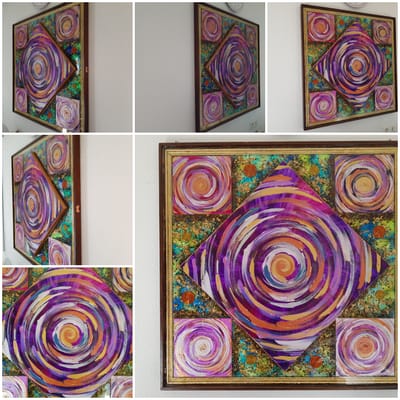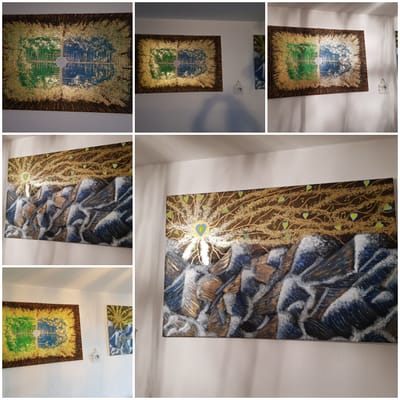 (Fr) Je réalise des
tableaux/sculptures murales contemporains et luxueux
. Ces œuvres pluri techniques et pluri matériaux ont pour objectif de former les décorums d'établissements haut de gamme: aux CONCEPTS UNIQUES: – établissements d'exceptions pour des escapades artistiques – établissements qui sont de véritables musées – établissements qui enrichissent l'expérience des visiteurs locaux et internationaux – établissements qui possèdent des identités propres avec des techniques innovantes – établissements orientés « bien-être »
Mes matériaux
: toiles originales peintes à la main à l'acrylique, résine époxy, feuilles et flocons d'or 24 carats, feuilles et flocons de cuivre pure, feuilles et flocons d'argent pure, métaux divers (notamment tubes, raccords et manchons à souder en cuivre et laiton), cristaux divers (diverses tailles) dont pyrites en cube, fibres Angelina et autres, cadres en bois sur mesures, vernis, lasure…
Les toiles
: Chacune des toiles est riche de symbolisme. Des messages y sont logés. Libre à chacun de les découvrir ou pas.
Style des toiles
: symbolisme et abstrait.
Ma discipline
: Peinture, Sculpture, Joaillerie, Artisanat art déco (meubles à partir de mes créations)
Les marchés que je vise : marché du luxe en hôtellerie-restauration haut de gamme (art hotels et art restaurants) – Établissements convoités par les grandes fortunes – Croisement entre établissements de luxe et établissement de bien-être
Les pays que je vise
: Maroc (Marrakech, Casablanca, Tanger), Émirats Arabes Unis (Dubaï, Abu-Dhabi), Russie (Moscou, Saint-Pétersbourg)
Ce que je recherche
: un ou des investisseur(s) pour la réalisation d'une trentaine d'œuvres uniques, de différentes dimensions – et pour la création d'une côte d'artiste
(Eng) I create
contemporary and luxurious wall paintings / sculptures
. These multi-technical and multi-material works aim to form the decorums of high-end establishments: UNIQUE CONCEPTS: - exceptional establishments for artistic escapades - establishments which are true museums - establishments which enrich the experience of visitors local and international - establishments which have their own identities with innovative techniques - establishments oriented towards "well-being"
My materials
: original paintings painted by hand in acrylic, epoxy resin, sheets and flakes of 24 carat gold, sheets and flakes of pure copper, sheets and flakes of pure silver, various metals (in particular tubes, fittings and sleeves soldering in copper and brass), various crystals (various sizes) including pyrites in cubes, Angelina fibers and others, custom wooden frames, varnish, stain ...
The paintings
: Each of the paintings is rich in symbolism. Messages are housed there. Everyone is free to discover them or not.
Canvas style
: symbolism and abstract.
My discipline
: Painting, Sculpture, Jewelry, Art Deco Crafts (furniture from my creations)
The markets that I target
: luxury market in upscale hotels and restaurants (art hotels and art restaurants) - Establishments coveted by large fortunes - Crossroads between luxury establishments and wellness establishments
The countries I target
: Morocco (Marrakech, Casablanca, Tangier), United Arab Emirates (Dubai, Abu-Dhabi), Russia (Moscow, Saint Petersburg)
What I am looking for
: one or more investors for the creation of thirty unique works, of different dimensions - and for the creation of an artist's rib

Mon art sur internet / My art on internet:https://www.artmajeur.com/e-delsart-consultant

https://elveredelsart.wordpress.com/

https://www.facebook.com/Elvere-Delsart-ART-2443526652601456/?modal=admin_todo_tour

https://twitter.com/ElverePaul

https://www.pinterest.fr/edelsartco/paul-elvere-delsart-artworks/

https://www.youtube.com/channel/UCbSvW4zy5jNvR1eaMab7wyg/videos

https://www.dailymotion.com/ElvereDELSART/videos

https://vk.com/el4dev

https://www.instagram.com/el4dev/

Portail Web / Web Portal:
http://www.el4dev.net/
Programme EL4DEV - EL4DEV program
https://www.paul-elvere-delsart.net/programme-el4dev-el4dev-program-paul-elvere-valerien-delsart
http://www.el4dev.com/
SOUS-PROGRAMME le papillon source - LE PAPILLON SOURCE sub-program
https://www.paul-elvere-delsart.net/sous-programme-le-papillon-source-le-papillon-source-sub-program-paul-elvere-valerien-delsart
http://www.el4dev.com/papillon/
Proclamation officielle de la confédération EL4DEV / Empire Vert d'orient et d'occident (Fr)
http://www.fr.el4dev.org/
Official proclamation of the EL4DEV confederation / Green Empire of the East and the West (Eng)

http://www.eng.el4dev.org/
Dossiers de presse EL4DEV - EL4DEV press kits
https://www.paul-elvere-delsart.net/dossiers-de-presse-el4dev-el4dev-press-kits/Brochures/Livres blancs EL4DEV - EL4DEV brochures / White papershttps://www.paul-elvere-delsart.net/brochures-livres-blancs-el4dev-el4dev-brochures-white-papersRevue de presse EL4DEV – EL4DEV press review
https://www.paul-elvere-delsart.net/revue-de-presse-el4dev-el4dev-press-review
Menu de navigation interne – Internal navigation menu
https://www.paul-elvere-delsart.net/navigation-site-website-navigation
Nous avons besoin de sponsors - We need sponsors :

Soutenez-nous sur Paypal – Back us on Paypal:
https://www.paypal.me/LePapillonSource
https://www.paypal.com/donate/?hosted_button_id=S5C6HJF9UEEMA
Soutenez-nous sur Tipeee– We need sponsors, back us on Tipeee:
https://fr.tipeee.com/le-papillon-source
Soutenez-nous sur Patreon– We need sponsors, back us on Patreon:
https://www.patreon.com/LE_PAPILLON_SOURCE_EL4DEVActualités du programme EL4DEV / News from EL4DEV program:
http://www.el4dev.com/feedAssociation LE PAPILLON SOURCE EL4DEV - LE PAPILLON SOURCE EL4DEV non-profit organization:
https://www.net1901.org/association/LE-PAPILLON-SOURCE-EL4DEV,1874386.html
https://www.gralon.net/mairies-france/gironde/association-le-papillon-source-el4dev-leognan_W332021967.htm