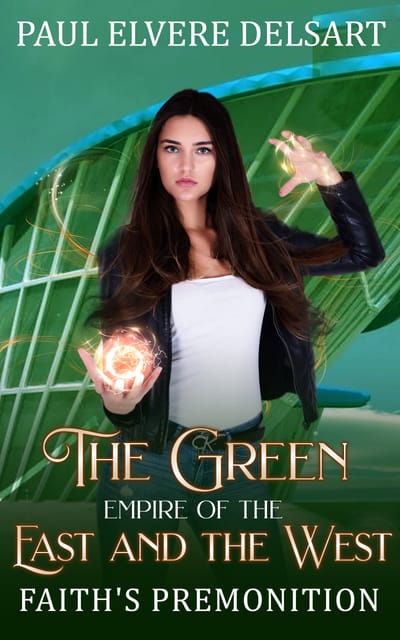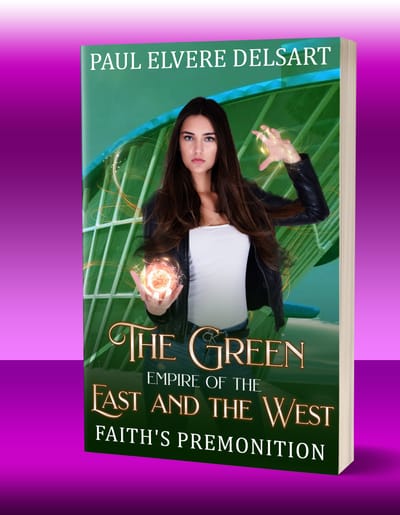 Title:
The Green Empire of the East and the West

Subtitle:
Faith's premonition
Author:
Paul Elvere Valérien DELSART
One day, Faith has a premonitory dream that is both frightening and intriguing. She glimpses a humanity that is running to its loss and a land on borrowed time. But she sees hope, an emperor, an empire, an alternative society that is changing social structures around the world and turning the earth into a forest planet. Following this dream Faith will conduct research on this empire and will discover that the Green Empire of the East and the West already exists and is growing.
Information is present just like the identity of this self-proclaimed emperor. This man has started creating international mass cooperation thanks to many projects he founded and initiated a restructuring of many societies in Europe, Asia and Africa. Faith begins to ask herself a lot of questions about this mysterious man as well as his disproportionate project. One person's ambition if mishandled could destroy everything.
She decides to leave her life to discover this empire.
Novel
Number of pages: 162
Weight:
Language: English
Editions:
EL4DEV
(French non-profit organization "
LE PAPILLON SOURCE EL4DEV
")
© Paul Elvere Valérien DELSART - All rights reserved - Owns 100% of the rightsOrder the book online now!1 - On MONBEAULIVRE.FR
(for direct purchases)
Formats and Sizes :
Ebook – (Epub format)
No ISBN:
https://publish.monbeaulivre.fr/site/?r=userwebsite/index&id=paul_elvere_delsart/bookdetails/296225
2 - On AMAZON.FR or .COM
(for direct purchases)
Formats and Sizes :
Paperback - Poket size
Amazon KDP ISBN: 979-8816792691
https://www.amazon.fr/Green-Empire-East-West-premonition/dp/B09ZCS92BQ/ref=sr_1_2?qid=1652539316&refinements=p_27%3APaul+Elvere+Valerien+DELSART&s=books&sr=1-2&text=Paul+Elvere+Valerien+DELSART
Ebook – (Kindle format)
No ISBN:
https://www.amazon.fr/Green-Empire-East-West-premonition-ebook/dp/B09ZCGG7R9/ref=sr_1_3?qid=1652535689&refinements=p_27%3APaul+Elvere+DELSART&s=digital-text&sr=1-3&text=Paul+Elvere+DELSART
3 - On THEBOOKEDITION.COM
(for direct purchases)
Formats and Sizes :
Ebook – (Epub format)
ISBN:
4 - On COOLLIBRI.COM
(for contact with the author - no direct purchases - The author places orders for customers)
Formats and Sizes :
5 - On RAKUTEN.COM
(for direct purchases of copies autographed by the author)
Formats and Sizes :
6 - On KOBO.COM
(for direct purchases)
Formats and Sizes :
Ebook – (Epub2 format)
Pas d'ISBN
https://www.kobo.com/us/en/ebook/the-green-empire-of-the-east-and-the-west
7 - On DECITRE.FR
(for direct purchases)
Formats and Sizes :
Ebook – (Epub format)
ISBN: 9781005825935
https://www.decitre.fr/ebooks/the-green-empire-of-the-east-and-the-west-9781005825935_9781005825935_10020.html
8 - On books.google.fr or .com
(for direct purchases)
Formats and Sizes :
Ebook – (Epub format)
ISBN: 9781005825935
https://books.google.fr/books?id=eiJuEAAAQBAJ&pg=PT106&lpg=PT106&dq=the+green+empire+of+the+east+and+the+west+google+books&source=bl&ots=1PRK5gBqd4&sig=ACfU3U18ue_qvpHznDEsJH1kG_gah_Jj0g&hl=fr&sa=X&ved=2ahUKEwjo-_eGkN_3AhXH3oUKHWWfCFcQ6AF6BAgOEAM#v=onepage&q=the%20green%20empire%20of%20the%20east%20and%20the%20west%20google%20books&f=false
9 - On fnac.com
(for direct purchases)
Formats and Sizes :
Ebook – (Epub format)
ISBN: 1230005551699
https://www.fnac.com/livre-numerique/a17011350/Paul-Elvere-DELSART-The-Green-Empire-of-the-East-and-the-West#FORMAT=ebook%20(ePub)
10 - On furet.com
(for direct purchases)
Formats and Sizes :
Ebook – (Epub format)
ISBN: 9781005825935
https://www.furet.com/ebooks/the-green-empire-of-the-east-and-the-west-paul-elvere-delsart-9781005825935_9781005825935_10020.html
11 - On smashwords.com
(for direct purchases)
Formats and Sizes :
Ebook – (Epub format)
ISBN: 9781005825935
https://www.smashwords.com/books/view/1145286
12 - On barnesandnoble.com
(for direct purchases)
Formats and Sizes :
Ebook – (Epub format)
No ISBN:
https://www.barnesandnoble.com/w/the-green-empire-of-the-east-and-the-west-paul-elvere-delsart/1141431847?ean=2940160774800
13 - On shop.vivlio.com
(for direct purchases)
Formats and Sizes :
Ebook – (Epub format)
No ISBN:
https://shop.vivlio.com/product/9781005825935_9781005825935_10020
14 - On books.apple.com
(for direct purchases)
Formats and Sizes :
Ebook – (Epub format)
No ISBN:
https://books.apple.com/us/book/the-green-empire-of-the-east-and-the-west/id6442780599
Other books
:
La prémonition de Faith - L'Empire Vert d'Orient et d'Orient (book)
https://www.paul-elvere-delsart.net/la-pr%C3%A9monition-de-faith-l-empire-vert-d-orient-et-d-orient
9 - Renouvellement du monde (book)
https://www.paul-elvere-delsart.net/9-renouvellement-du-monde