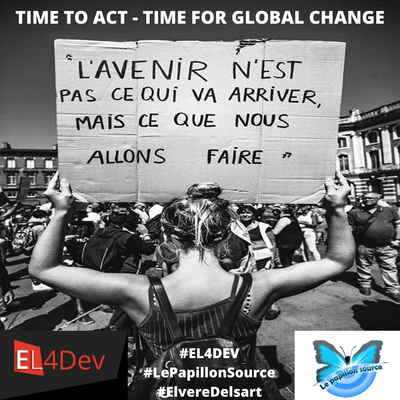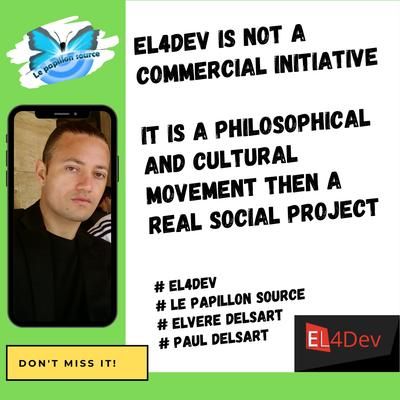 "Changing the world is a simple matter of will, process and determination"
Most people think that being able to change the world is a utopia driven by arrogance or naivety. Yet it is obvious that each and every individual on earth wishes openly or secretly that humanity one day take up this challenge.
Our societies are in reality social constructions
(notion of
"social constructivism"
). This means that social reality and social phenomena are constructed, that is, created, objectified or institutionalized and, subsequently, transformed into traditions.
Their existence depends only on a tacit agreement between people
. Any redefinition or improvement of an existing social construction (regardless of its anchoring in mentalities) is
easily achievable provided that adequate processes are designed, tested on a small scale, implemented on a large scale and continuously evaluated and maintained in their performance
. The goal to be achieved is the self-regulation of a complex global system.
By self-regulation, we must understand that there are necessarily
mechanisms of self-organization and self-correction and then a perfect balance
. I am talking here about economic, social and behavioral mechanisms. Systemics (from cybernetics) is used as a key to understanding our world, which is neither a simple system, nor a complicated system, but a complex system, with its operating laws.
Systemics should also be used to gradually rebalance this overall system
. Complexity is not complication.
Complexity is the basis of everything that exists
.
A change in mass is therefore easily operable thanks to a series of ordered, interdependent and single-use processes, the respective effects of which are highly channeled, optimized and combined in order to constitute a high-performance modular unit
(global system whose balance is based on feedback or feedback from the condition). The whole is greater than the sum of the parts that compose it.
Change is therefore not a series of random events
. Change is easily achieved
through systems engineering applied to social and economic sciences
.
For this I have developed a unique program - the transnational and trans-disciplinary program called EL4DEV
.
EL4DEV is first of all
an idea, a vision, a concept, a principle. It is then a question of a philosophical and cultural movement, of a social project. Finally, it can be defined as a process, an enforcement mechanism, a matrix, a self-regulatory framework of civil society, a new kind of social contract
.
This website and my entire online publications make up my manifesto ... It aims to inspire, instill, motivate, activate...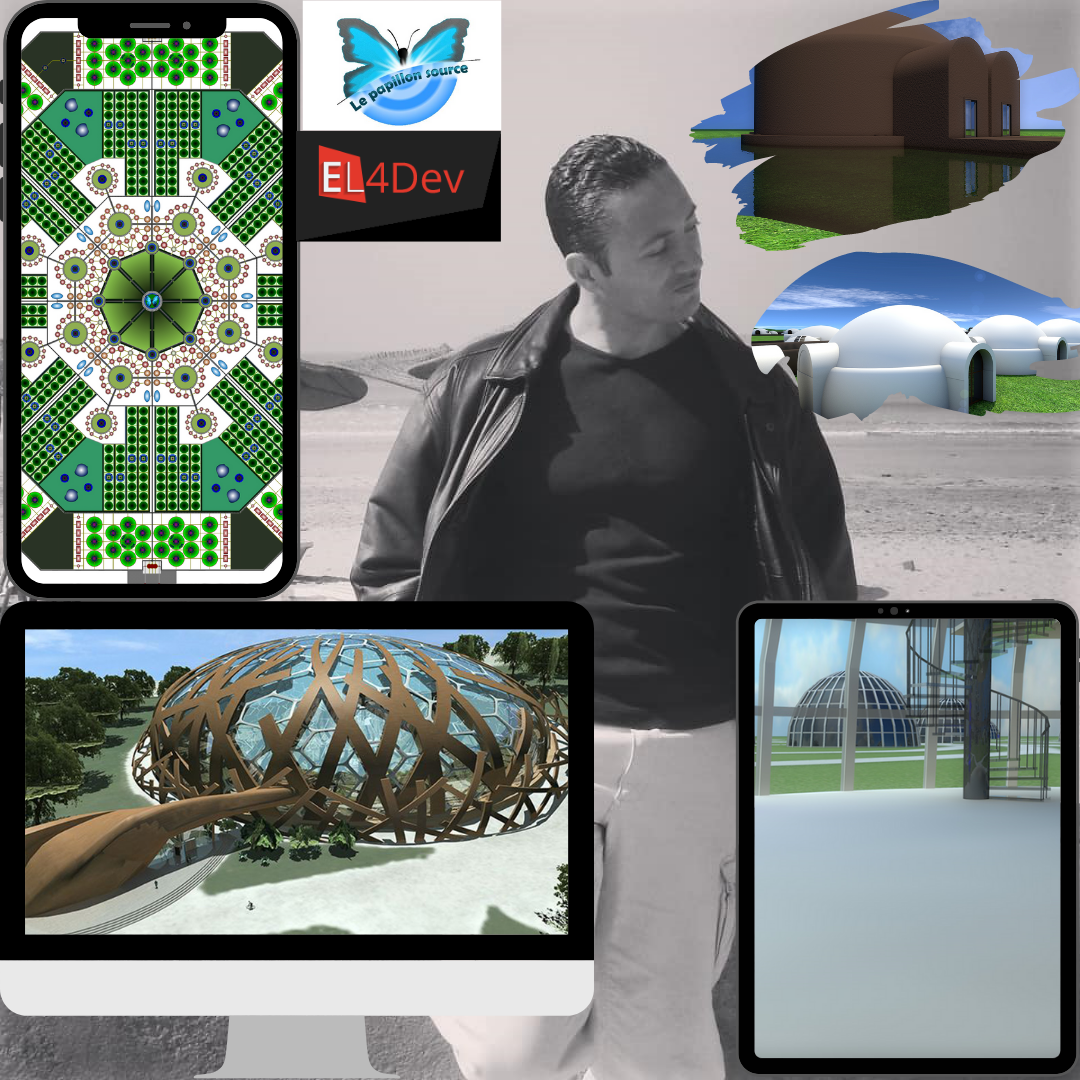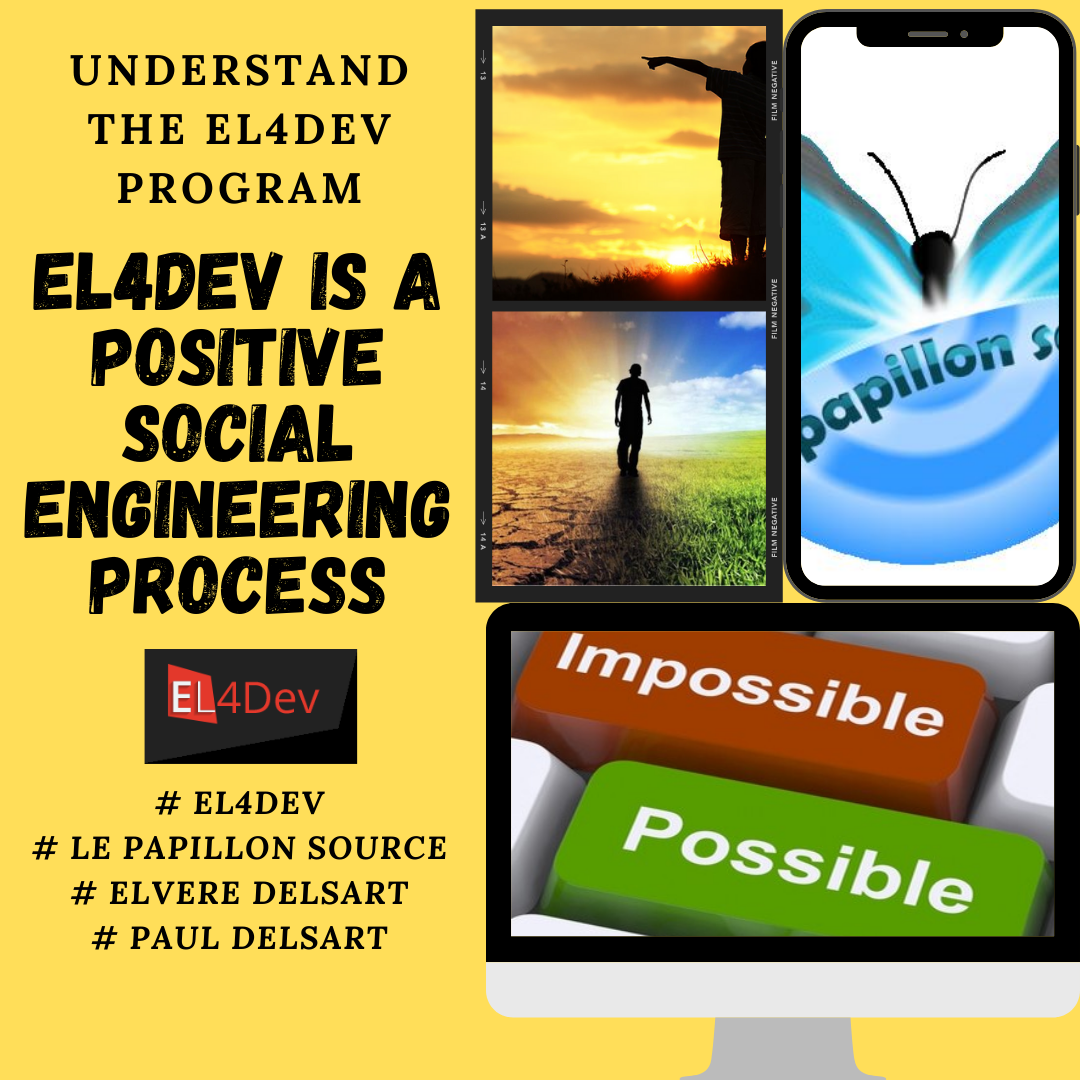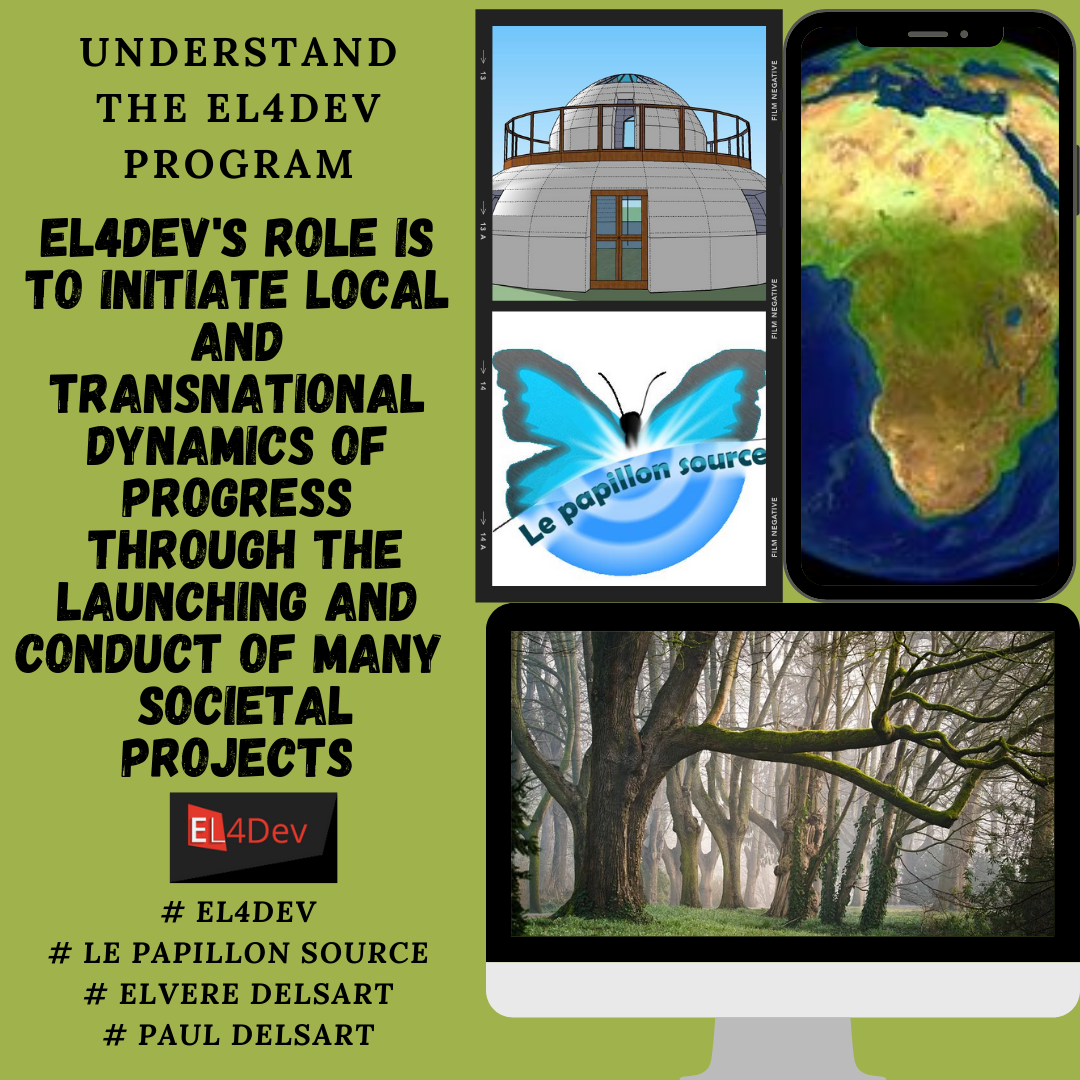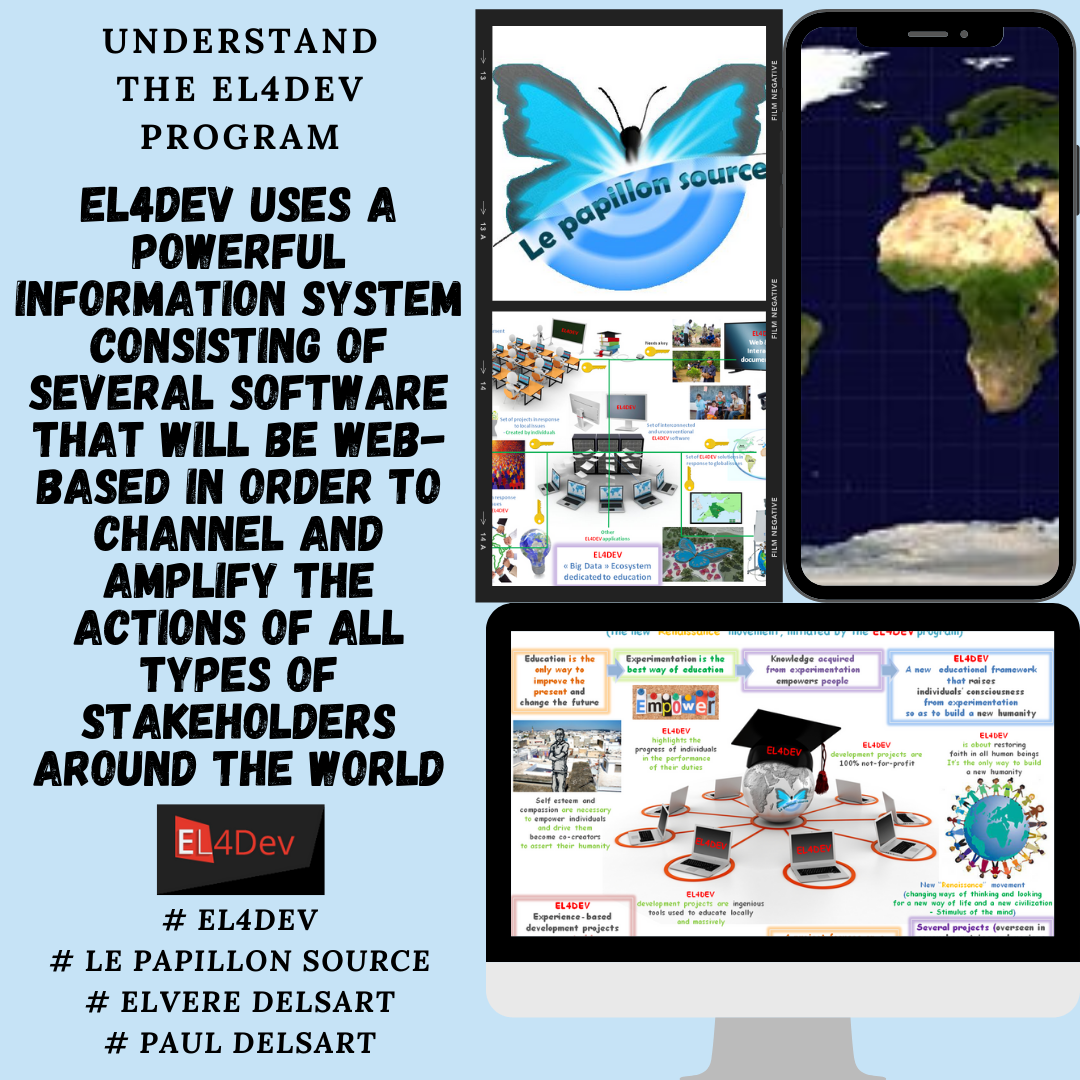 Portail Web / Web Portal:
http://www.el4dev.net/
Programme EL4DEV - EL4DEV program
https://www.paul-elvere-delsart.net/programme-el4dev-el4dev-program-paul-elvere-valerien-delsart
http://www.el4dev.com/
SOUS-PROGRAMME le papillon source - LE PAPILLON SOURCE sub-program
https://www.paul-elvere-delsart.net/sous-programme-le-papillon-source-le-papillon-source-sub-program-paul-elvere-valerien-delsart
http://www.el4dev.com/papillon/
Official proclamation of the EL4DEV confederation / Green Empire of the East and the West (Eng)

http://www.eng.el4dev.org/
Dossiers de presse EL4DEV - EL4DEV press kits
https://www.paul-elvere-delsart.net/dossiers-de-presse-el4dev-el4dev-press-kits/Brochures/Livres blancs EL4DEV - EL4DEV brochures / White papershttps://www.paul-elvere-delsart.net/brochures-livres-blancs-el4dev-el4dev-brochures-white-papersRevue de presse EL4DEV – EL4DEV press review
https://www.paul-elvere-delsart.net/revue-de-presse-el4dev-el4dev-press-review
Menu de navigation interne – Internal navigation menu
https://www.paul-elvere-delsart.net/navigation-site-website-navigationPlateforme PDF - PDF platform
http://el4dev.info/
Nous avons besoin de sponsors - We need sponsors :

Soutenez-nous sur Paypal – Back us on Paypal:
https://www.paypal.me/LePapillonSource
https://www.paypal.com/donate/?hosted_button_id=S5C6HJF9UEEMA
Soutenez-nous sur Tipeee– We need sponsors, back us on Tipeee:
https://fr.tipeee.com/le-papillon-source
Soutenez-nous sur Patreon– We need sponsors, back us on Patreon:
https://www.patreon.com/LE_PAPILLON_SOURCE_EL4DEVActualités du programme EL4DEV / News from EL4DEV program:
http://www.el4dev.com/feedAssociation LE PAPILLON SOURCE EL4DEV - LE PAPILLON SOURCE EL4DEV non-profit organization:
https://www.net1901.org/association/LE-PAPILLON-SOURCE-EL4DEV,1874386.html
https://www.gralon.net/mairies-france/gironde/association-le-papillon-source-el4dev-leognan_W332021967.htm