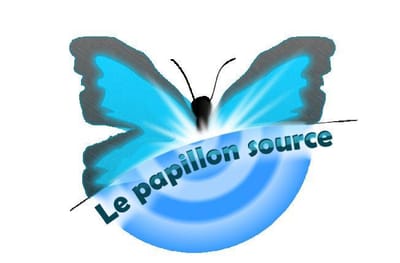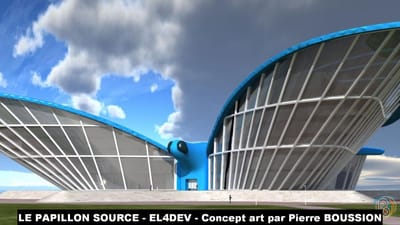 (Fr)
LE PAPILLON SOURCE, ce sont
:
-
Des lieux dédiés à la recherche multidisciplinaire
sur des thématiques liées à l'humanité, l'éthique, la philosophie, la science, l'énergie et la gestion de la terre, etc. Ils concentreront un nombre important de chercheurs, inventeurs et visionnaires actuellement isolés, sans ressources et à grands potentiels qui sont uniquement guidés par le bien réel de l'humanité
-
Des lieux dédiés au tourisme éducatif
(ils créeront un divertissement de qualité, un apprentissage et une expérience de la créativité pour des clients de tous âges: familles, individus, petites, moyennes et grandes entreprises, écoles, universités, consultants, personnalités publiques et groupes d'intérêts spéciaux)
-
Des lieux dédiés au tourisme scientifique
-
Des lieux dédiés au tourisme écologique, équitable, social et solidaire, agricole, de bien-être et de ressourcement
-
Des lieux dédiés au tourisme d'affaire
(pour des réunions, des salons, des expositions et des sommets ou se mêlent subtilité d'esprit et intelligence du cœur)
-
Des lieux dédiés à l'échange et à la mise en place, de manière participative, d'accords et de projets sur la manière d'administrer éthiquement et durablement les affaires du mondeL'association « LE PAPILLON SOURCE EL4DEV » est le cerveau du programme
.
- Je conceptualise / conçois des projets sociétaux et environnementaux innovants / transformateurs aux niveaux régional, national et transnational
-
Je réalise les spécifications techniques / développe les solutions principales
-
Je recherche des communes contributrices dont les retours sur investissements seraient la copropriété des infrastructures, le rayonnement et les bénéfices commerciaux
. Ces contributions s'inscriraient dans leurs dépenses d'investissement. Des contrats opérationnels seraient établis entre le think-tank et les communes. Celles-ci formeraient alors des Syndicats Intercommunaux ou des Groupements d'Intérêt Économique (G.I.E.) afin de mutualiser l'investissement.
Je conçois, organise et planifie :

- des événements de coopération artistique transnationaux pour véhiculer l'essence des projets
- des évènements de coopération intellectuelle transnationaux pour développer les solutions techniques suivant les spécifications techniques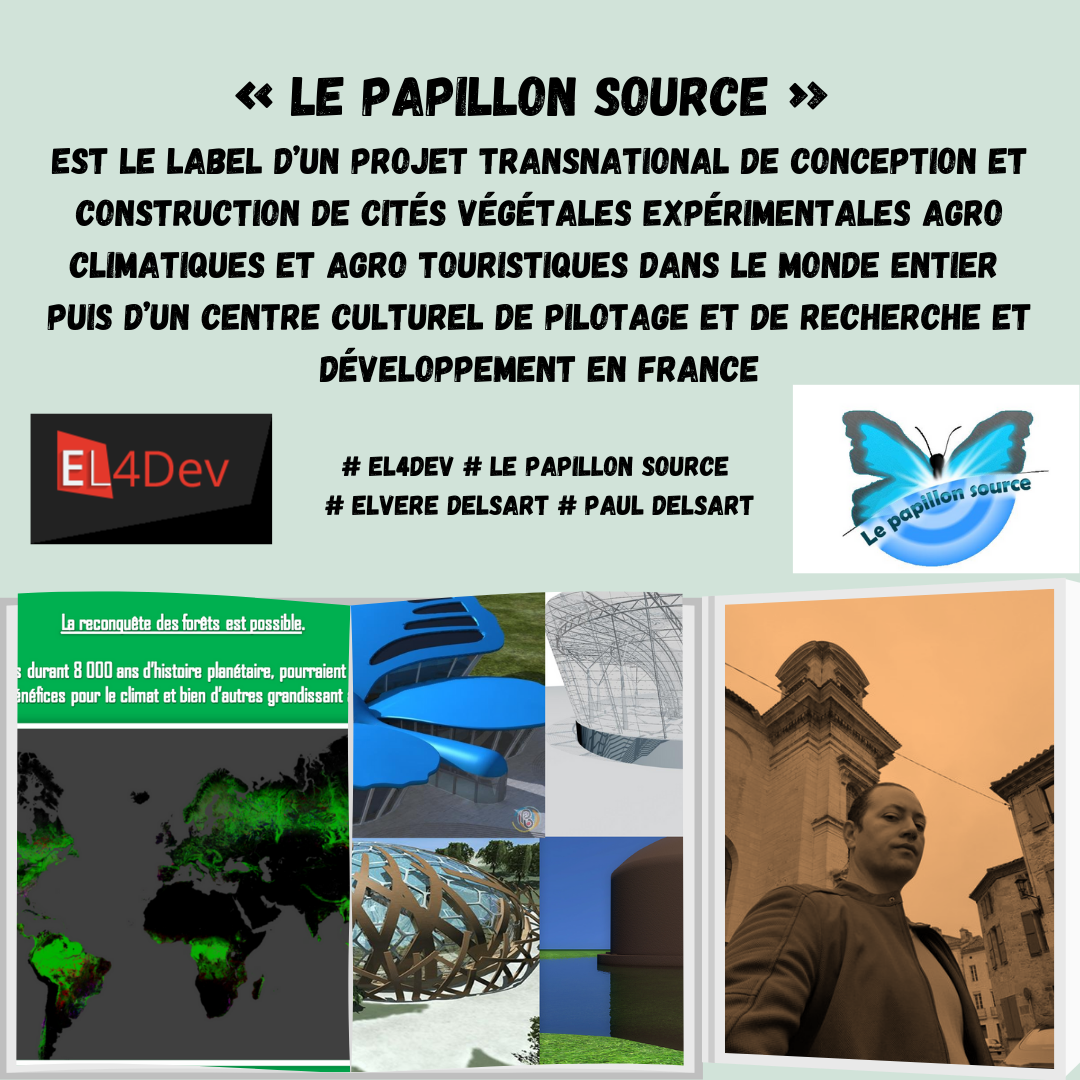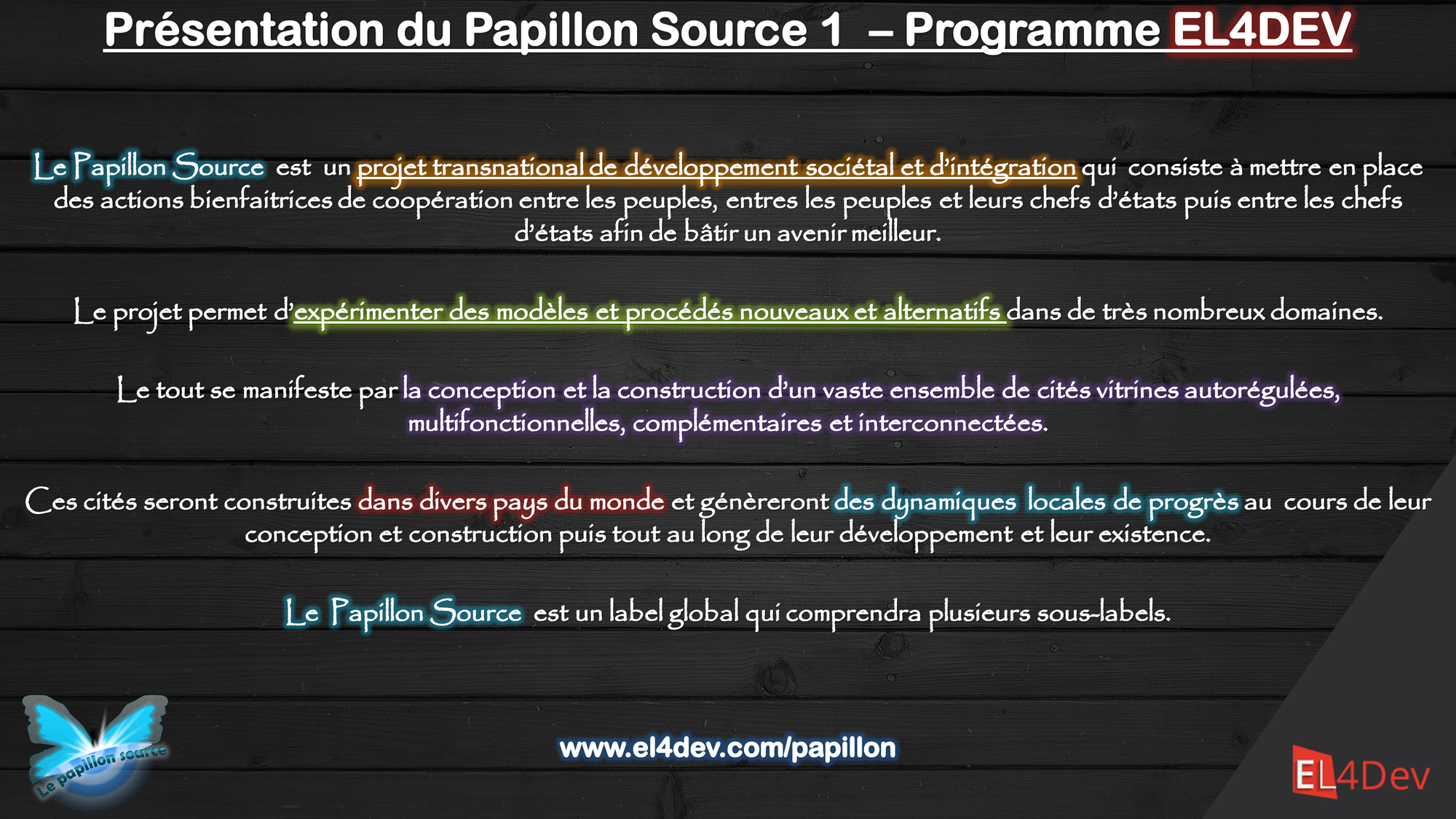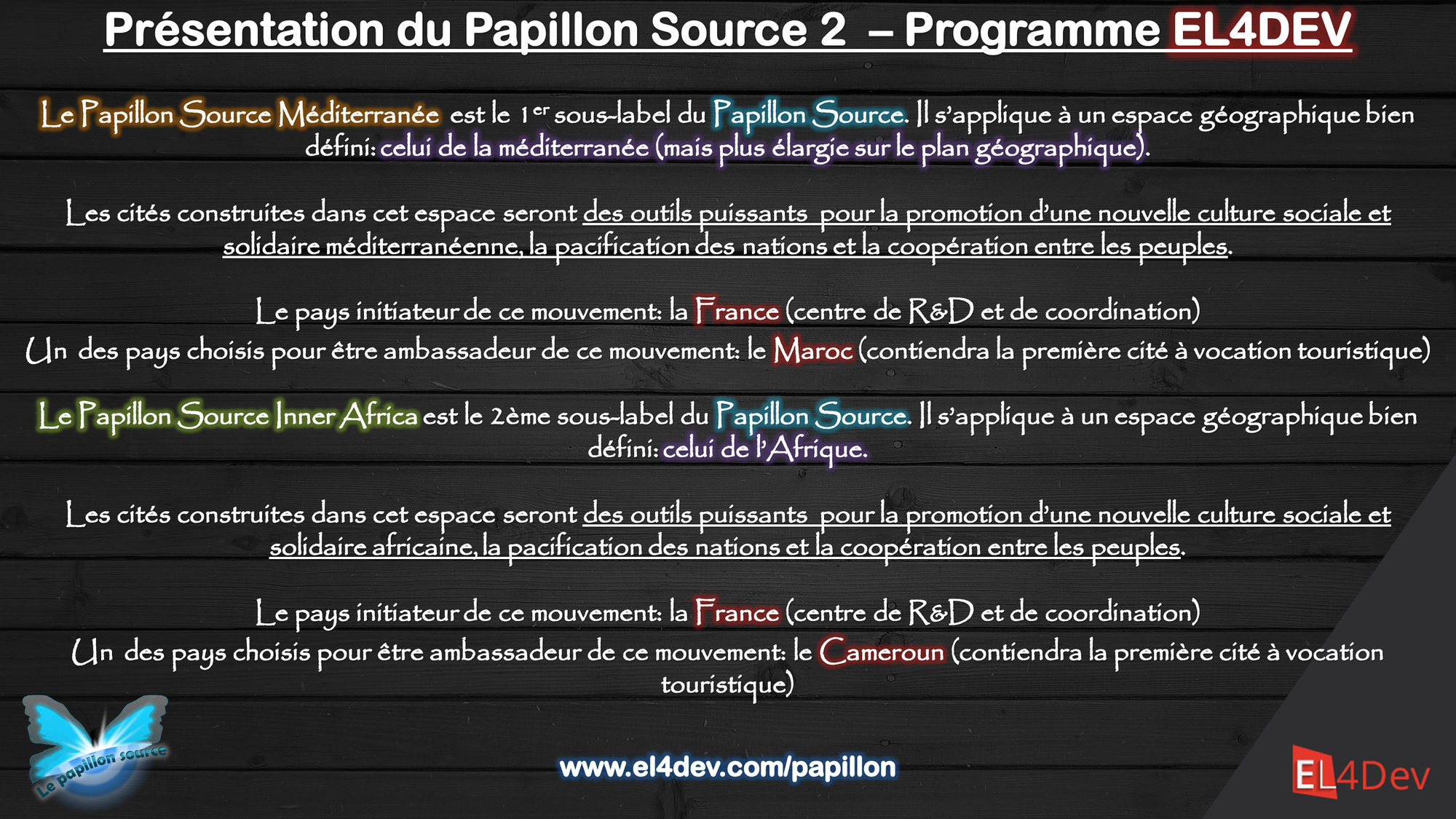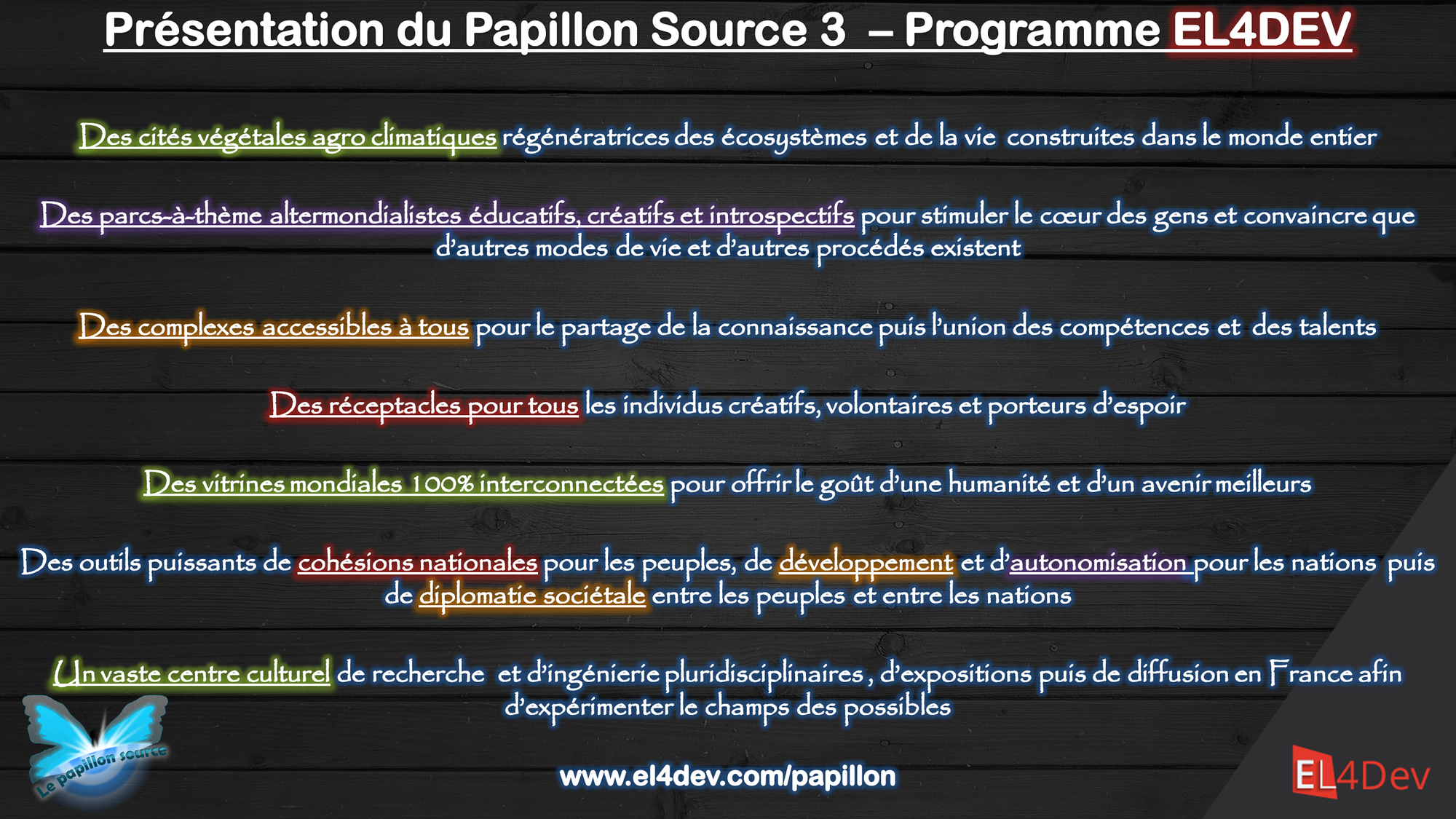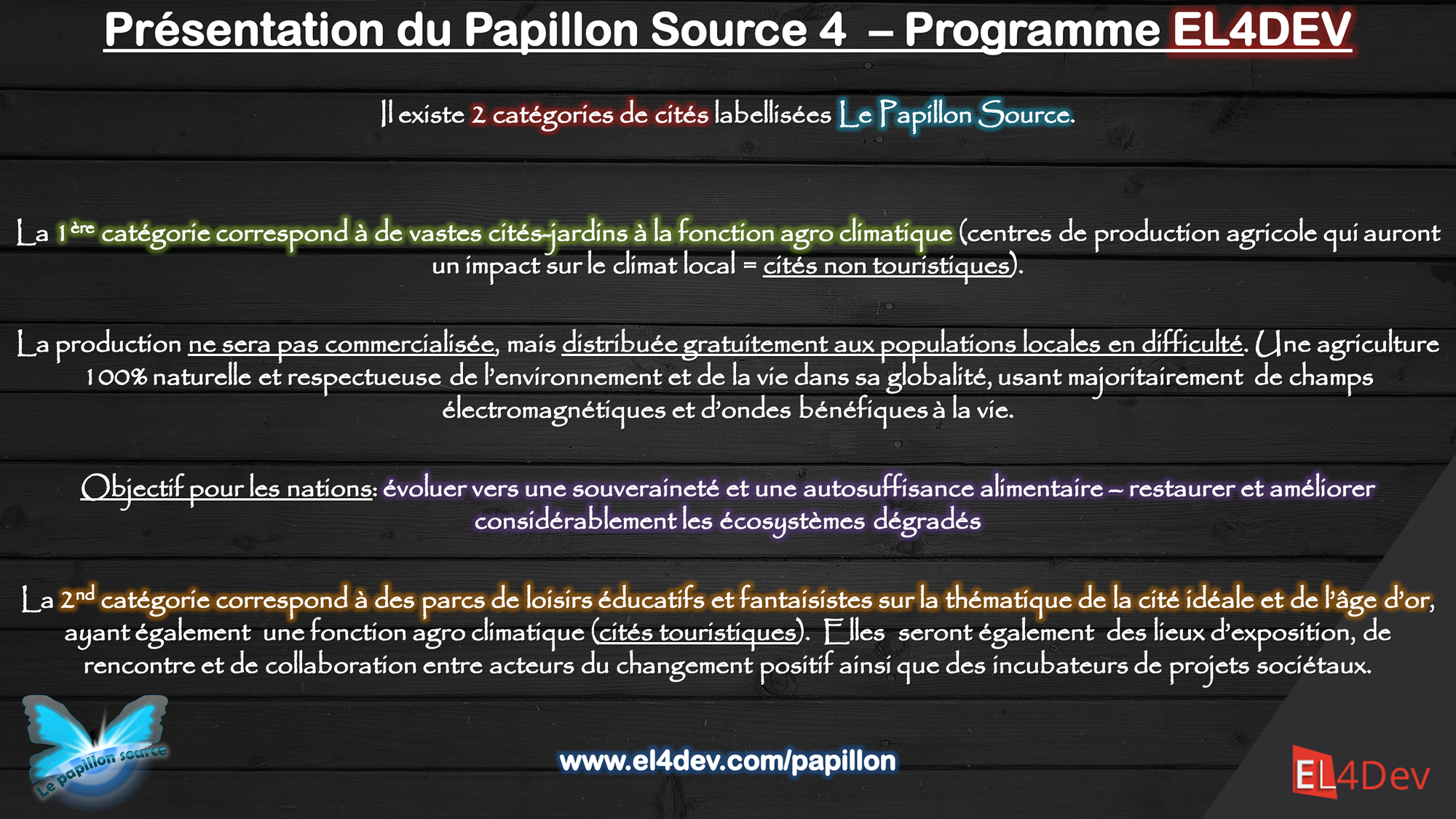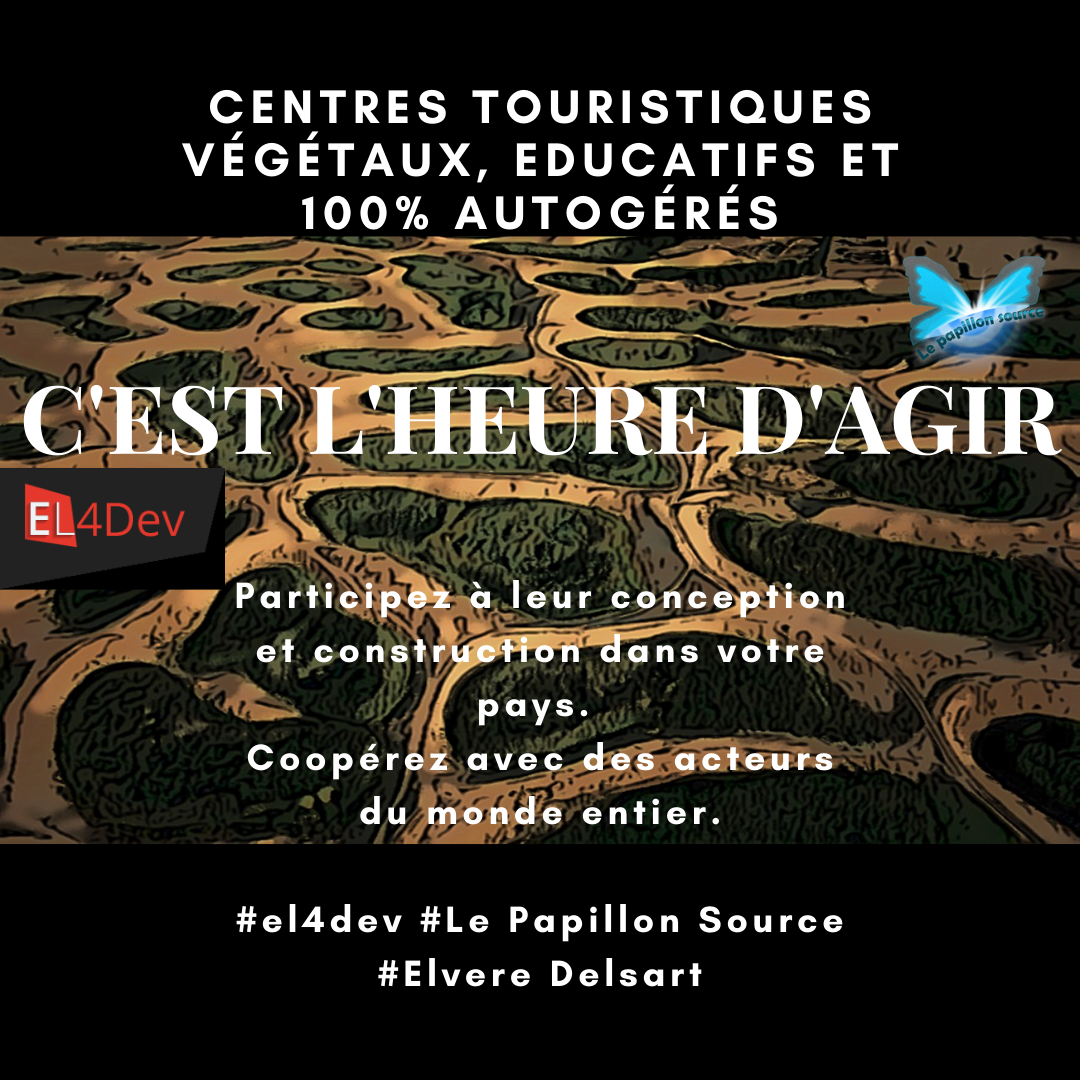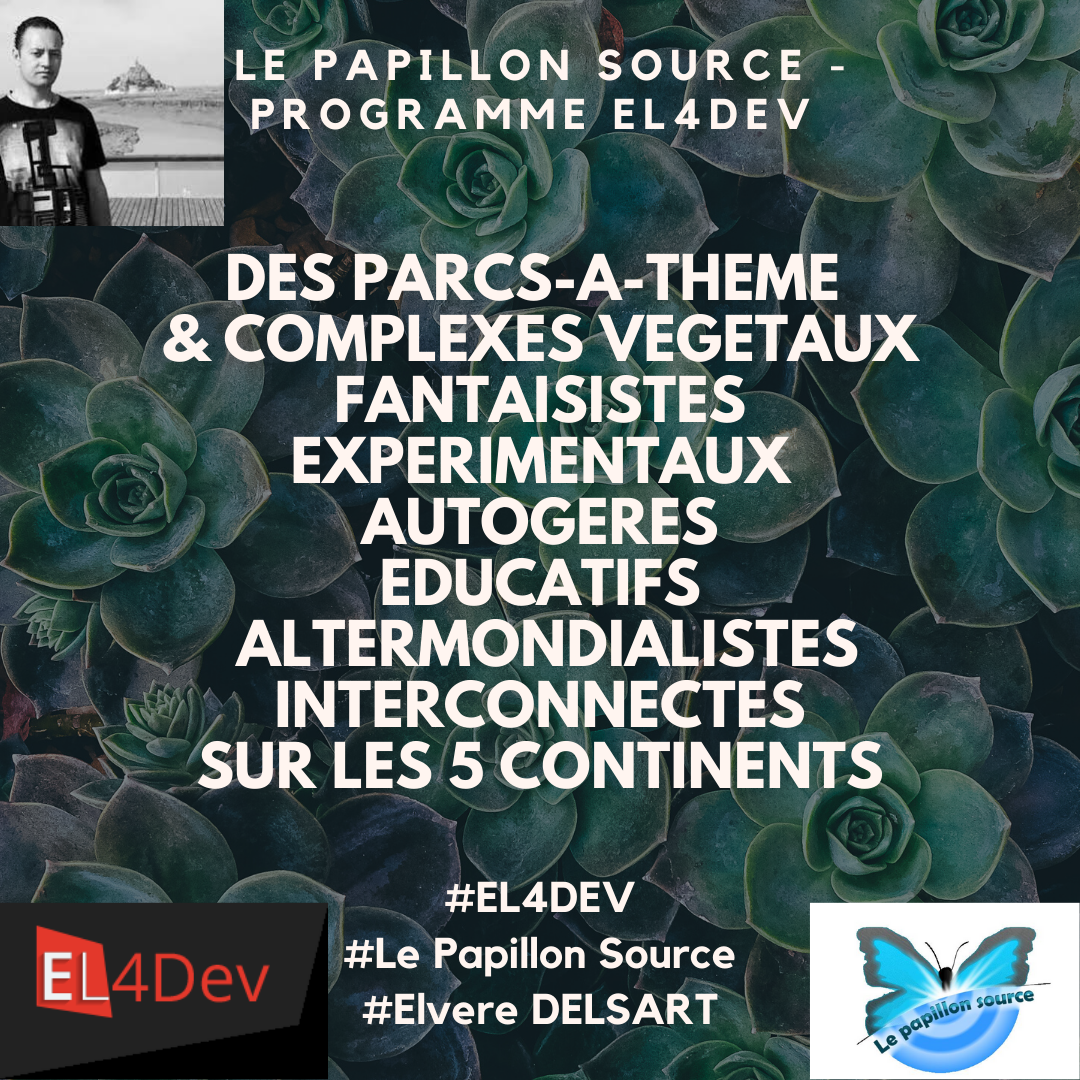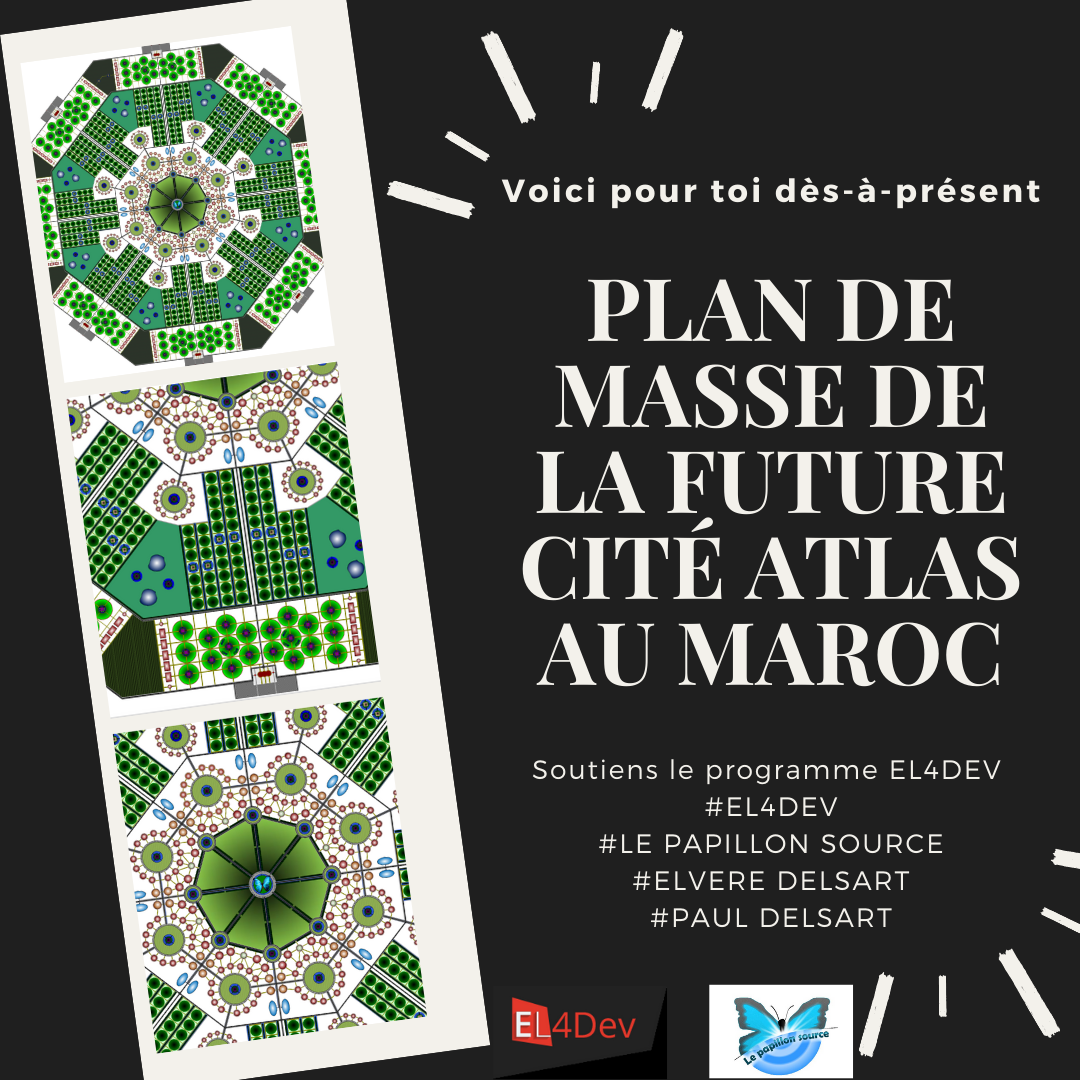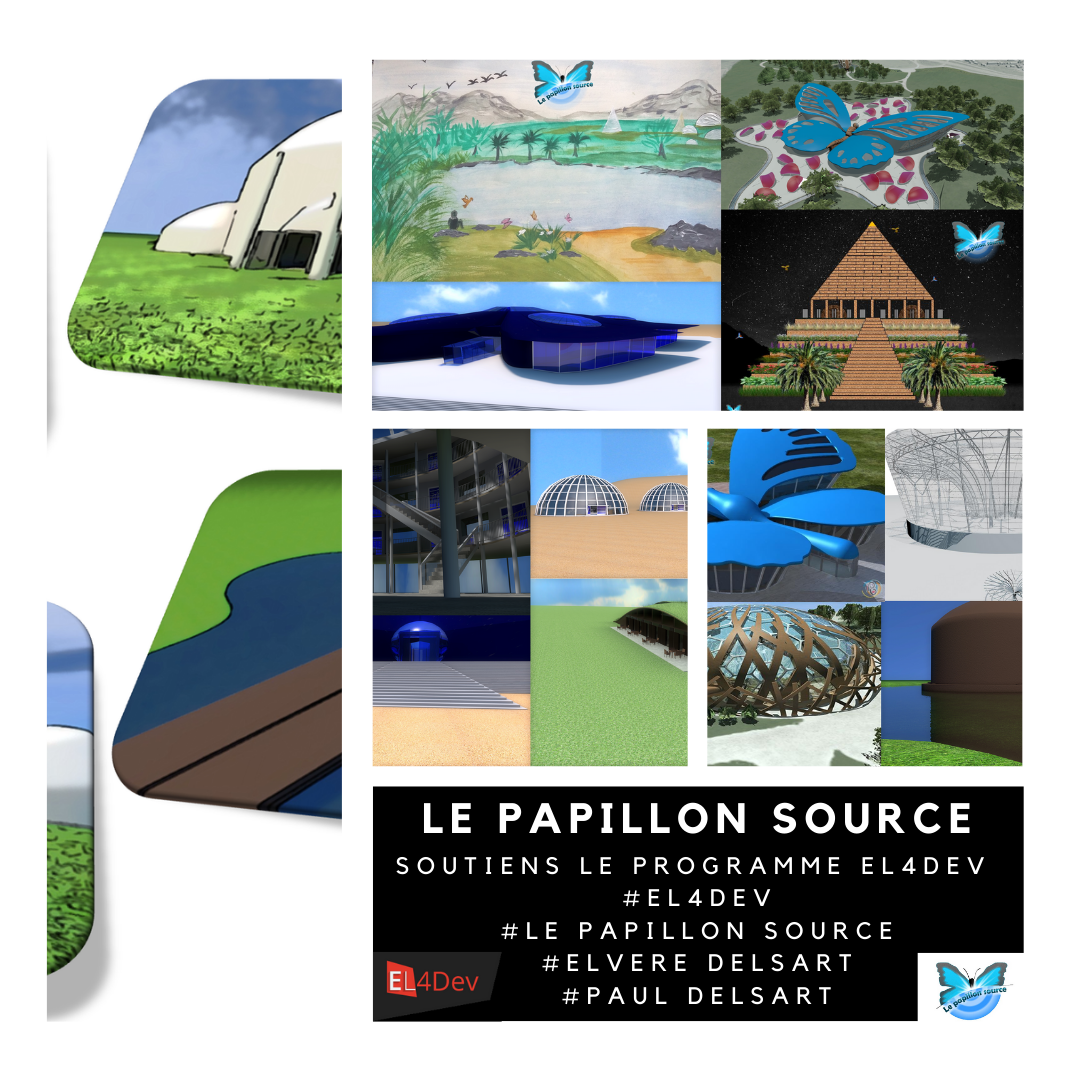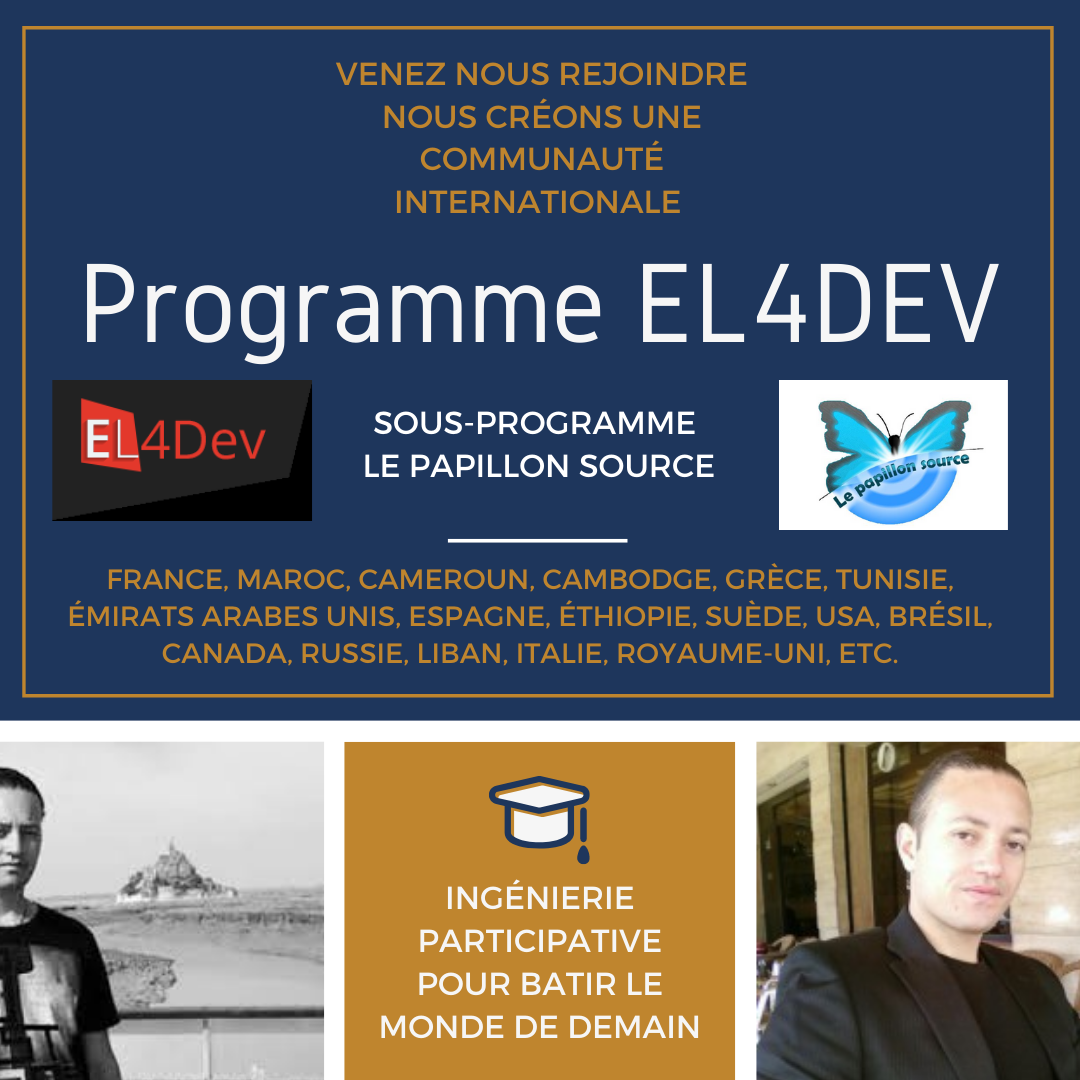 (ENG)
LE PAPILLON SOURCE is
:
-
Places dedicated to multidisciplinary research
on topics related to humanity, ethics, philosophy, science, energy, land management, etc. They concentrate a large number of researchers, inventors and visionary people currently being isolated, without support and with great potentials that are solely guided by the actual good of humanity
-
Places dedicated to educational tourism
(they will create quality entertainment, learning and experience of creativity for clients of all ages: families, individuals, small, medium & large companies, schools, universities, consultants, public figures and groups of special Interest)
-
Places dedicated to scientific tourism
-
Places dedicated to ecological, equitable, Social & Fair, agricultural, wellness & healing tourism
-
Places dedicated to business tourism
(for meetings, fairs, exhibitions and summits where subtlety of mind and intelligence of the heart mingle)
-
Places dedicated to the exchange and the establishment, in a participatory way, of agreements and projects on how to ethically and sustainably manage world affairsThe Not-for-profit organization "LE PAPILLON SOURCE EL4DEV" is the brain of the program
.
- I conceptualize & design societal & environmental projects (innovative and transformative) at a regional, national & cross-national level
-
I realize the technical specifications & develop the main solutions
.
-
I look for contributing municipalities whose return on investments would be co-ownership of infrastructures, influence & commercial profits.
These contributions would be part of their investment expenditure. Operational agreements would be established between the think-tank & municipalities. These then form Cross Municipalities Syndicates or Economic Interest Groupings (G.I.E.) in order to pool the investment.
I design, organize & plan:

- crossnational artistic cooperation events to convey the essence of the projects
- crossnational intellectual cooperation events to develop technical solutions according to the technical specifications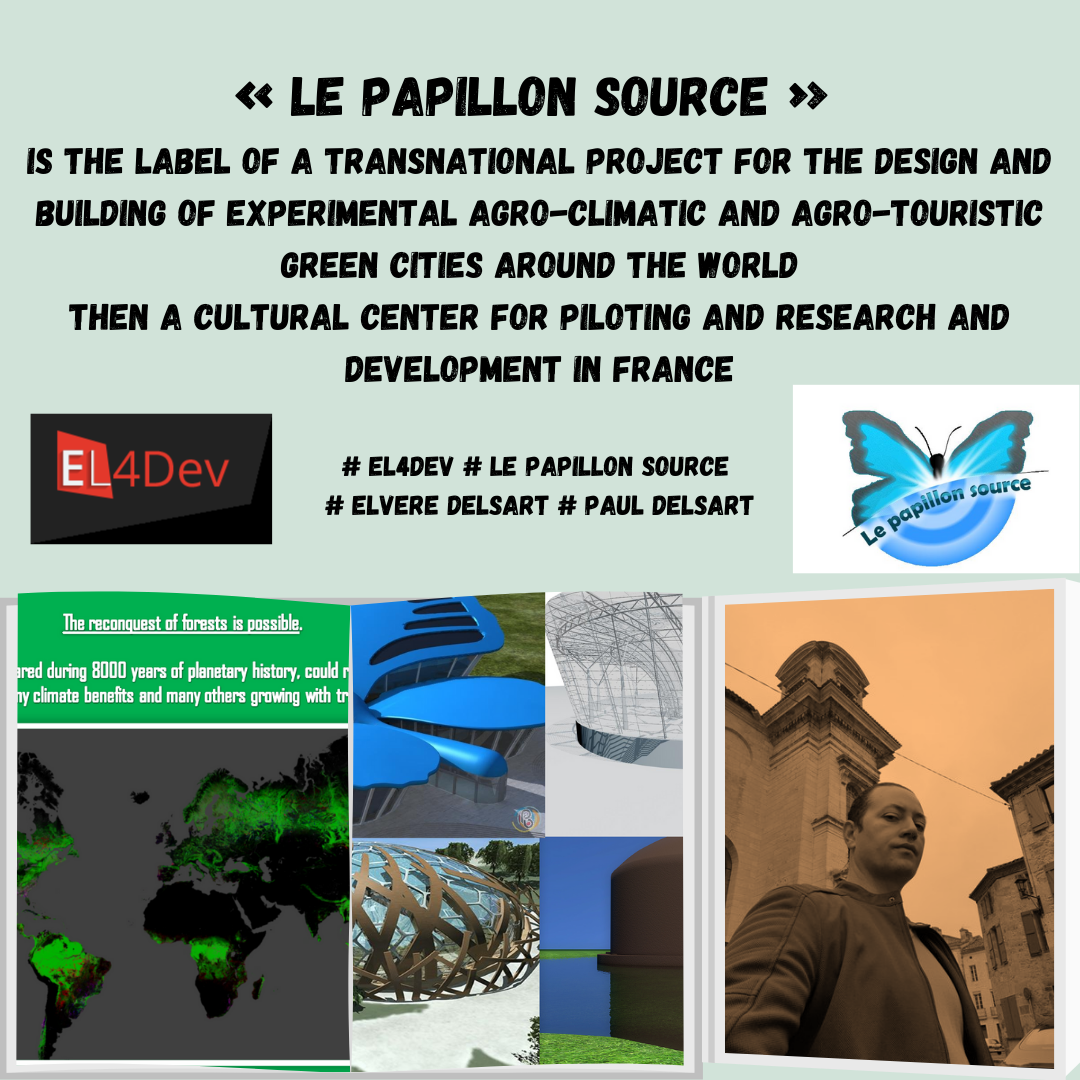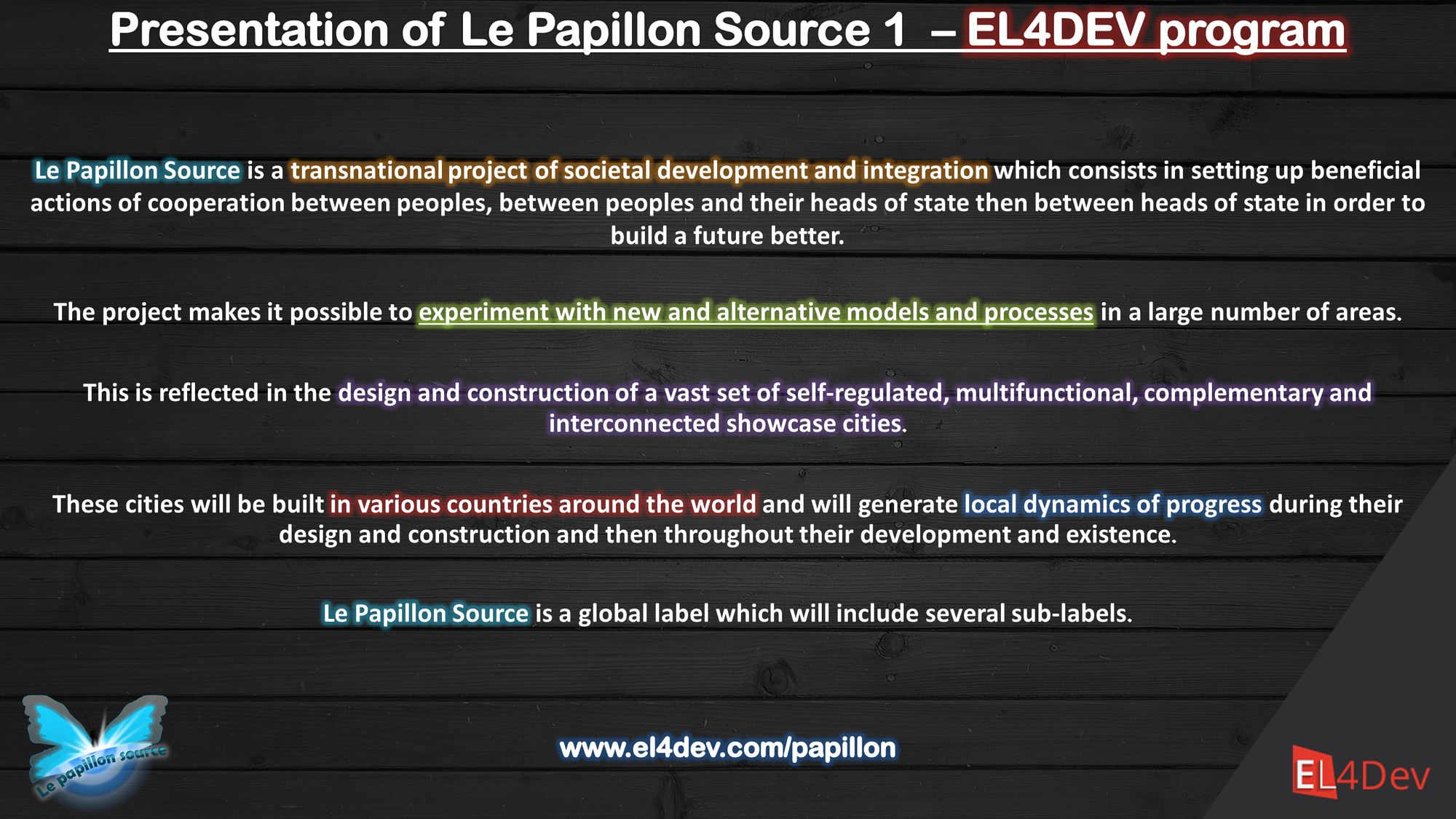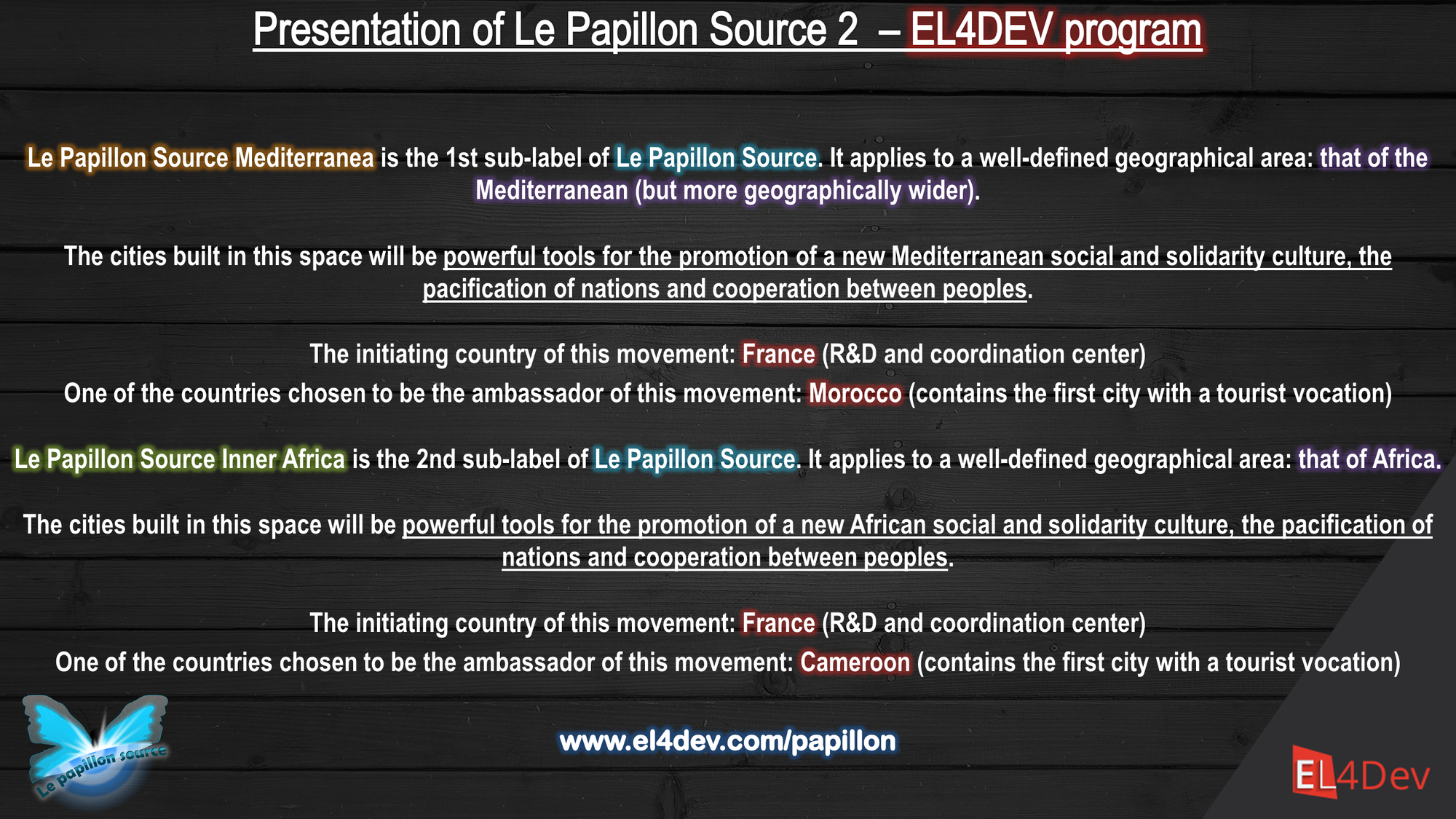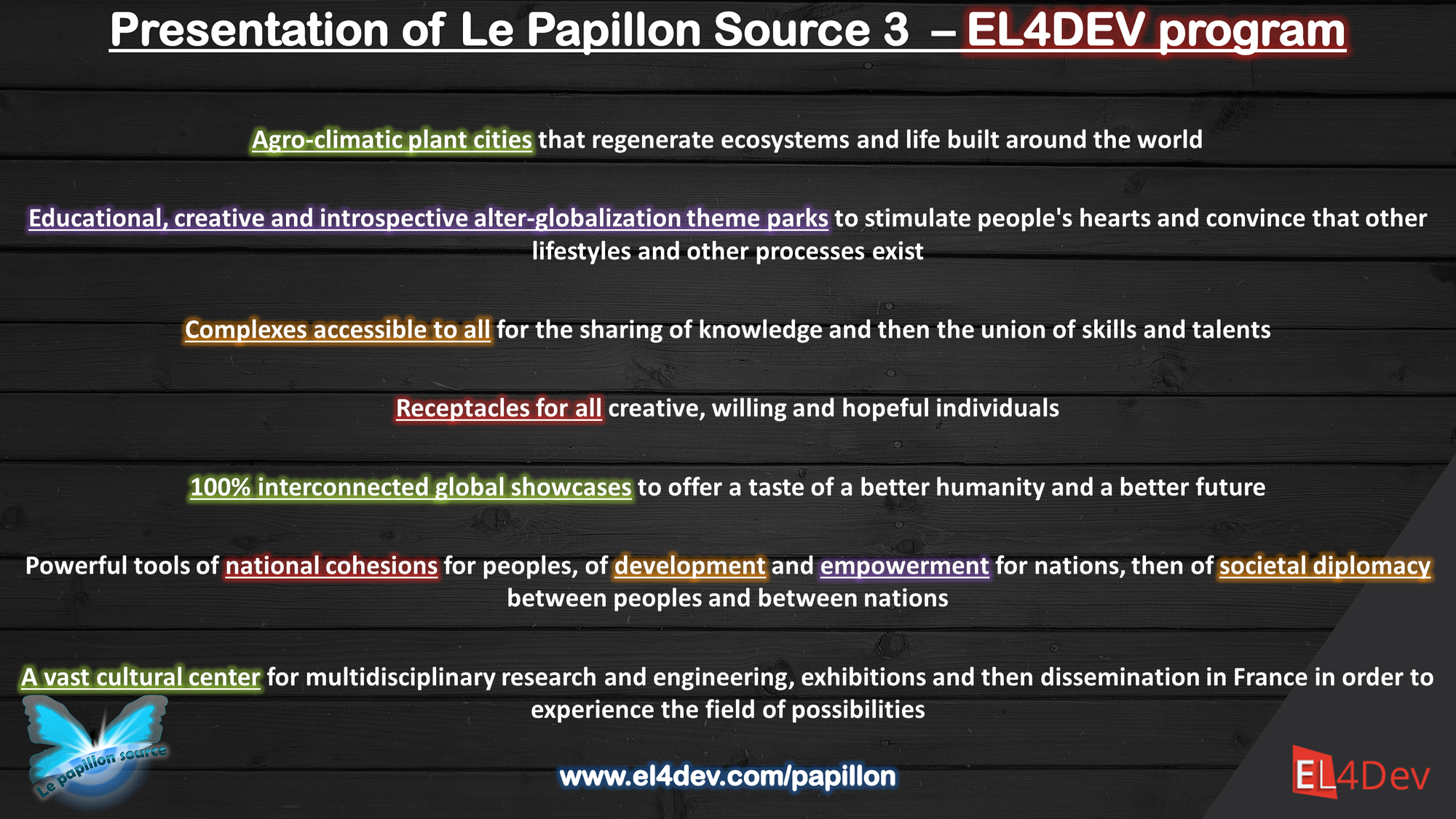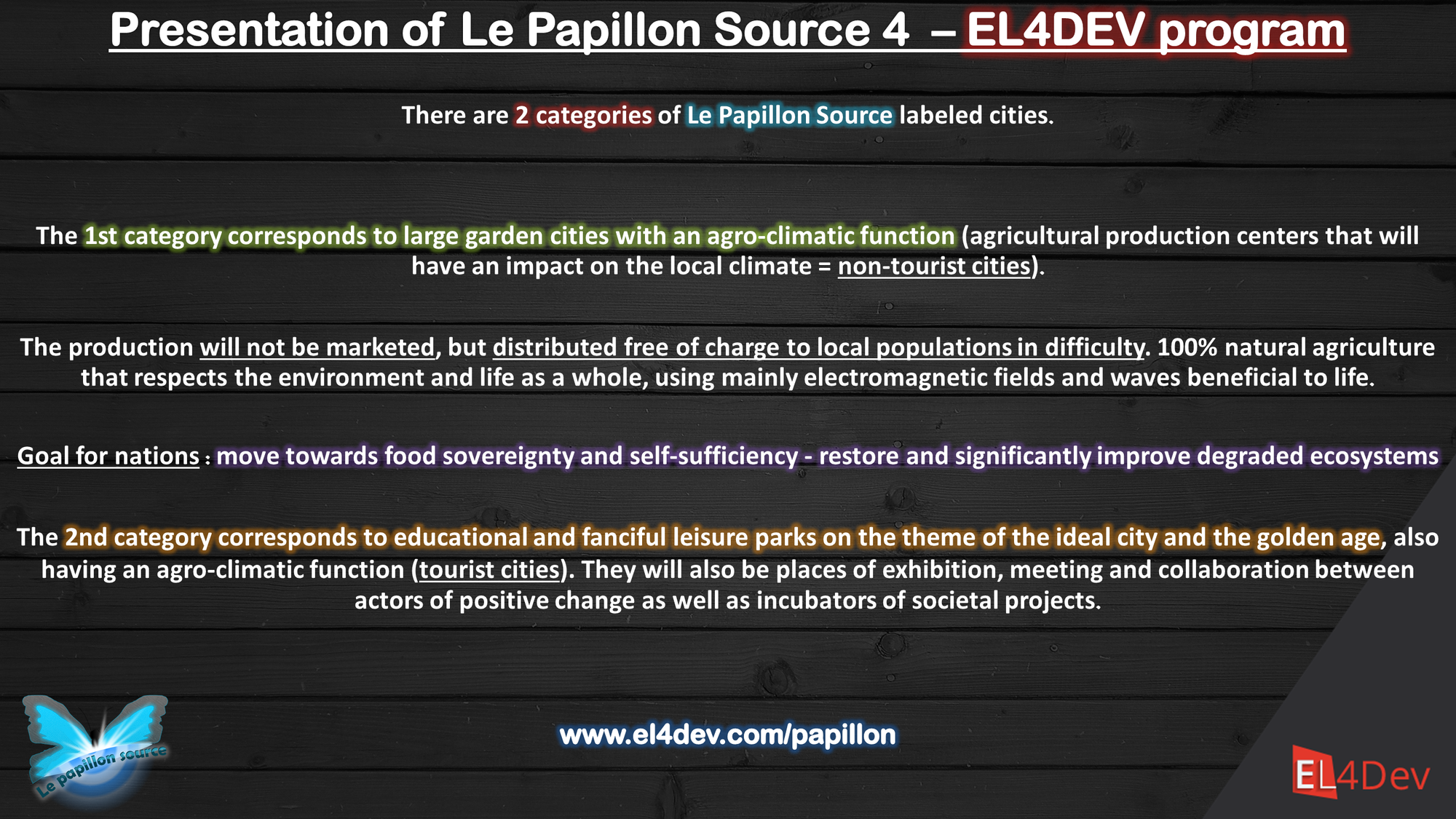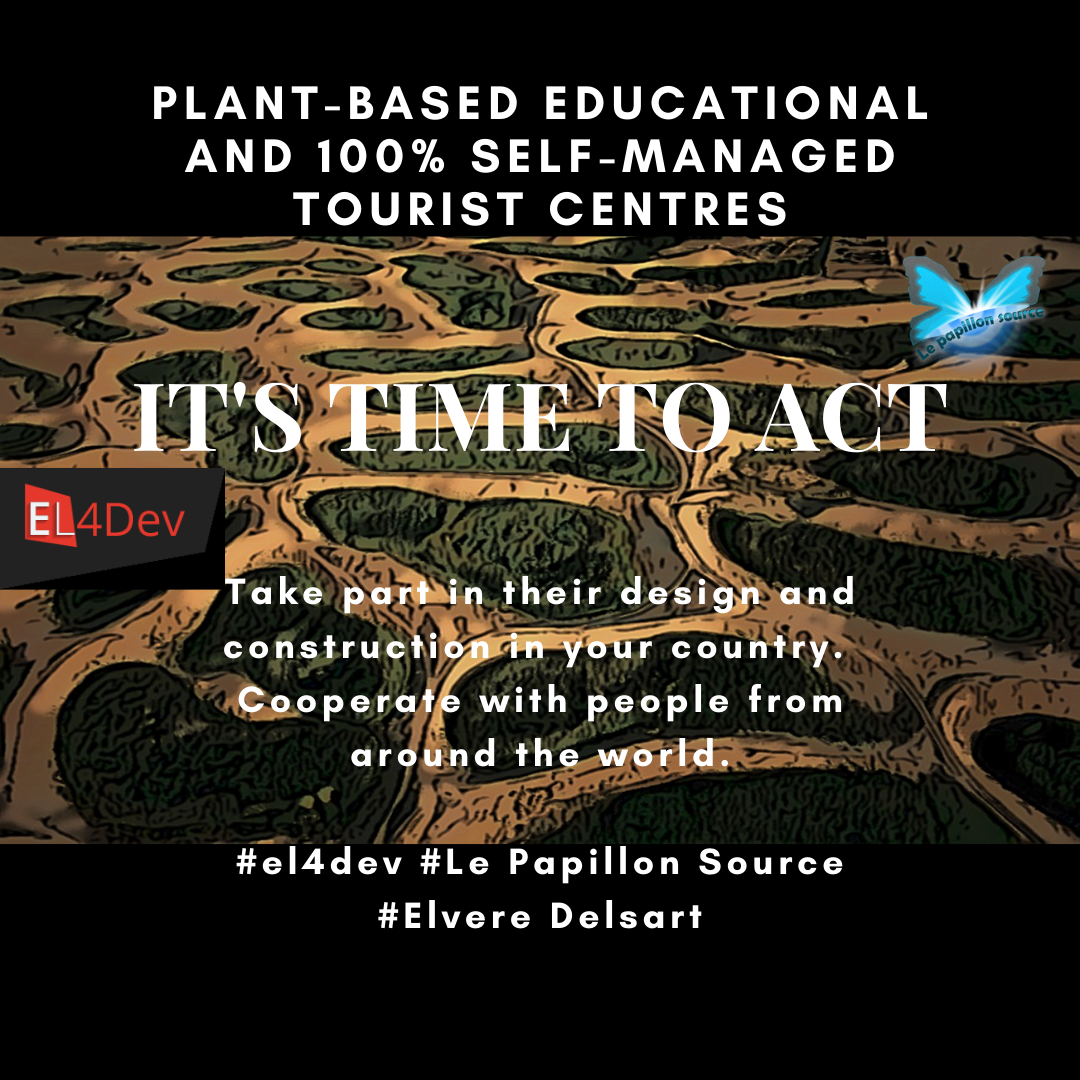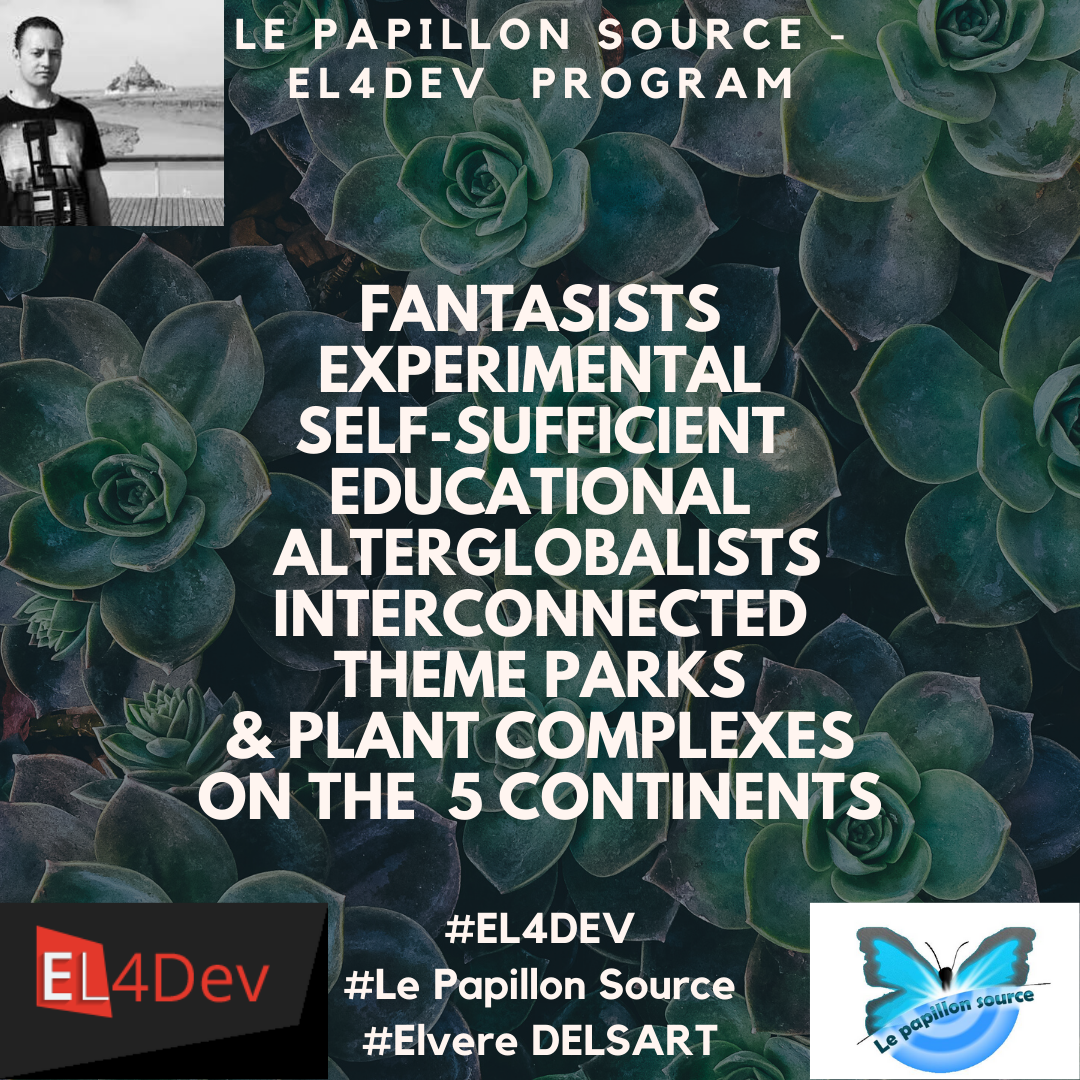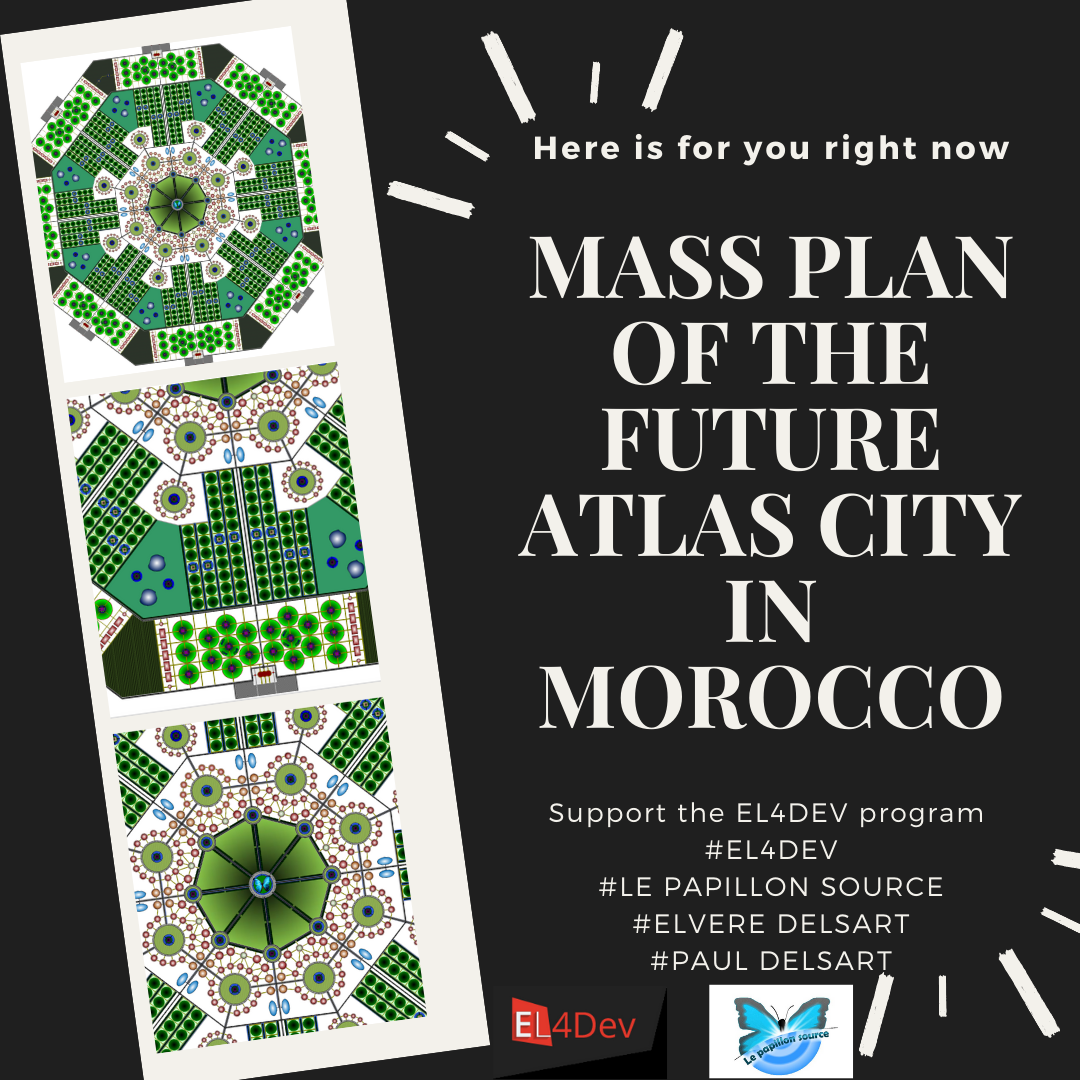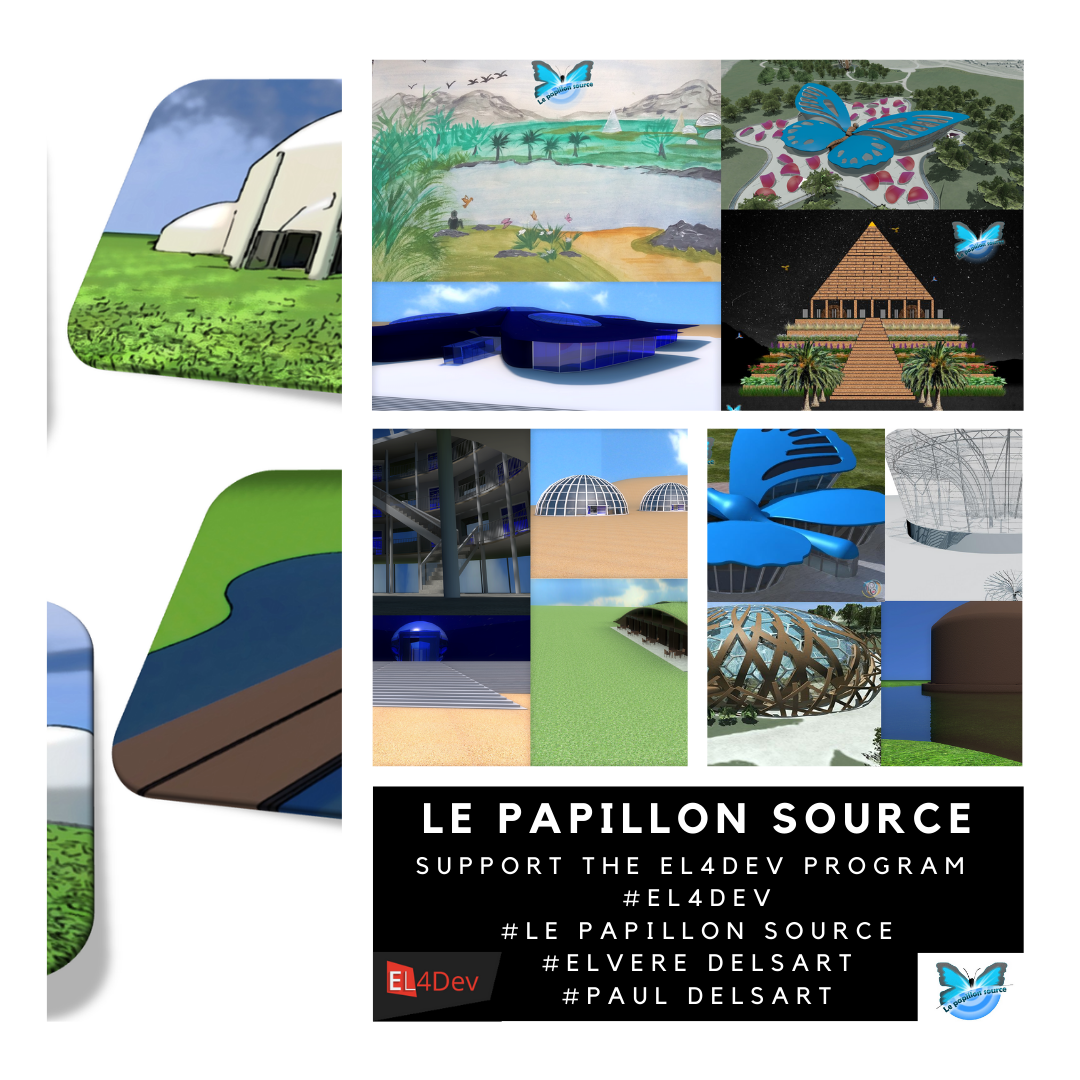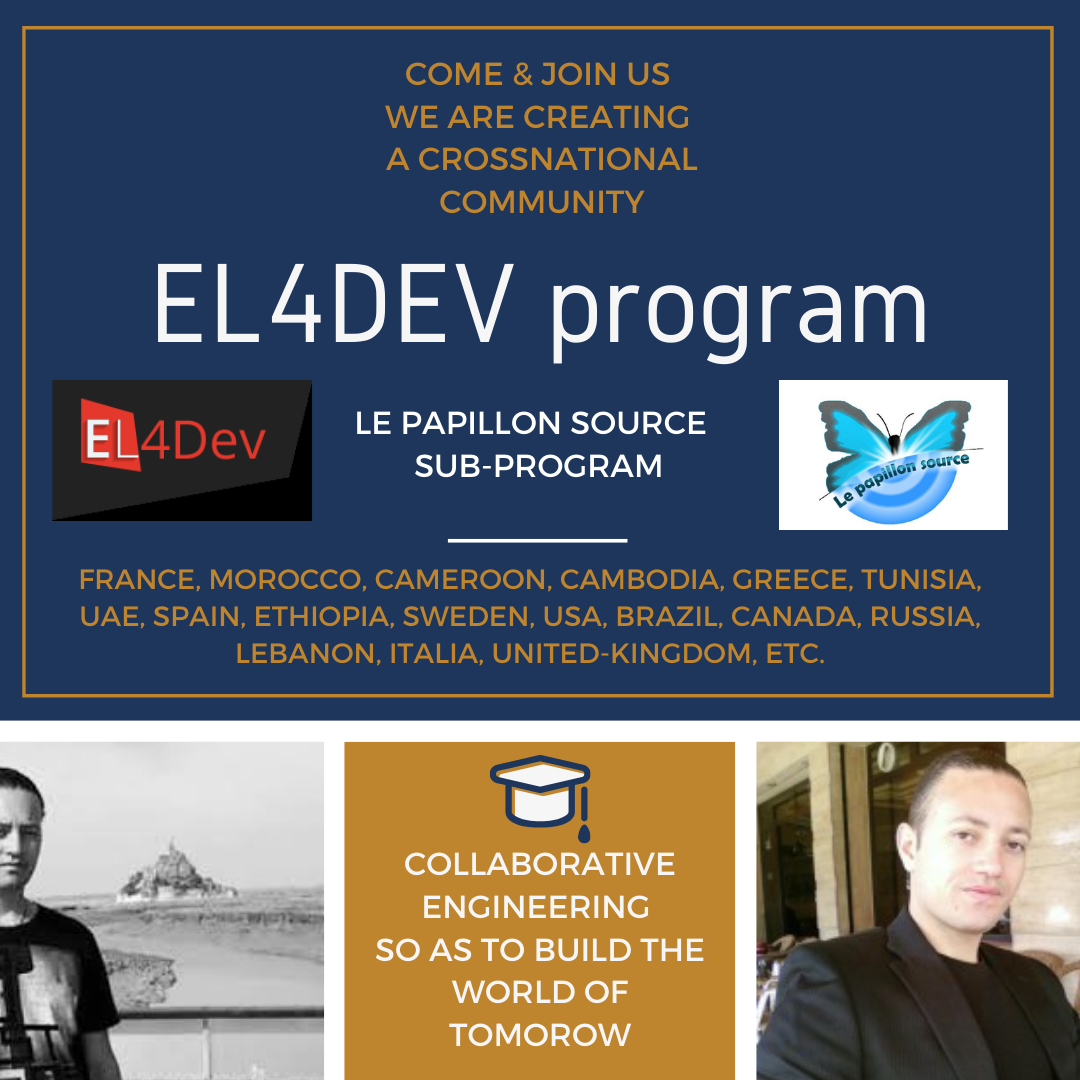 Sous-programme LE PAPILLON SOURCE / LE PAPILLON SOURCE sub-program:http://www.el4dev.com/papillon/

http://el4dev.com/papillon/vitrine.htmlhttp://el4dev.com/papillon/infographies.htmlhttp://el4dev.com/papillon/infographies-inner-africa.htmlhttp://el4dev.com/papillon/caracteristiques-contenu-cites.htmlhttp://el4dev.com/papillon/cities-autogerees.htmlhttp://el4dev.com/papillon/papillon-source-mediterranee.htmlhttp://el4dev.com/papillon/inner-africa.htmlhttp://el4dev.com/papillon/papillon-source-vitrines-experimentales-philosophie-programme-el4dev.htmlhttps://el4dev.wordpress.com/2019/04/13/what-is-le-papillon-source-inner-africa-el4dev-program-paul-elvere-valerien-delsart/

https://parcattractionsloisirsmarocmarrakech.wordpress.com/2019/04/08/le-papillon-source-el4dev-selon-thomas-delsart-france/

https://parcattractionsloisirsmarocmarrakech.wordpress.com/2019/04/09/le-papillon-source-el4dev-selon-pierre-boussion-france/

https://parcattractionsloisirsmarocmarrakech.wordpress.com/2019/04/08/le-papillon-source-el4dev-selon-abdelaziz-ghazani-maroc/

http://el4dev-le-papillon-source.over-blog.com/2017/04/sauver-le-monde-arabo-musulman-el4dev-le-papillon-source-mediterranee.html

https://el4dev.wordpress.com/2019/04/13/le-papillon-source-mediterranee-quand-paul-elvere-valerien-delsart-sadresse-au-roi-mohammed-vi/

Youtube:
https://www.youtube.com/channel/UC8JNU8rO25jb3qycBVybNKg

Dailymotion:
https://www.dailymotion.com/ElvereDELSART/videos

Rutube:
https://rutube.ru/video/person/1096895/?ordering=-created_ts
Facebook:
https://fr-fr.facebook.com/el4dev.lepapillonsource.mohammedVI/
Vk:
https://vk.com/el4dev
Twitter:
https://twitter.com/PapillonSource

Pinterest:
https://www.pinterest.fr/lepapillonsource/Reddit:
https://www.reddit.com/user/Elvere-Paul-DELSART
Articles sur Informaction.info:
http://www.informaction.info/iframe-le-papillon-source-la-future-cite-touristique-vitrine-dun-avenir-meilleur-pres-de-marrakech

http://www.informaction.info/video-positivons-le-papillon-source-mediterranee-un-francais-porte-un-message-fort-despoir-et-de-paix

http://www.informaction.info/video-projet-de-societe-le-papillon-source-cite-vitrine-dun-avenir-meilleur


Portail Web / Web Portal:
http://www.el4dev.net/
Programme EL4DEV - EL4DEV program
https://www.paul-elvere-delsart.net/programme-el4dev-el4dev-program-paul-elvere-valerien-delsart
http://www.el4dev.com/
Proclamation officielle de la confédération EL4DEV / Empire Vert d'orient et d'occident (Fr)
http://www.fr.el4dev.org/
Official proclamation of the EL4DEV confederation / Green Empire of the East and the West (Eng)

http://www.eng.el4dev.org/
Dossiers de presse EL4DEV - EL4DEV press kits
https://www.paul-elvere-delsart.net/dossiers-de-presse-el4dev-el4dev-press-kits/Brochures/Livres blancs EL4DEV - EL4DEV brochures / White papershttps://www.paul-elvere-delsart.net/brochures-livres-blancs-el4dev-el4dev-brochures-white-papersRevue de presse EL4DEV – EL4DEV press review
https://www.paul-elvere-delsart.net/revue-de-presse-el4dev-el4dev-press-review
Menu de navigation interne – Internal navigation menu
https://www.paul-elvere-delsart.net/navigation-site-website-navigation
Nous avons besoin de sponsors - We need sponsors :

Soutenez-nous sur Paypal – Back us on Paypal:
https://www.paypal.me/LePapillonSource
https://www.paypal.com/donate/?hosted_button_id=S5C6HJF9UEEMA
Soutenez-nous sur Tipeee– We need sponsors, back us on Tipeee:
https://fr.tipeee.com/le-papillon-source
Soutenez-nous sur Patreon– We need sponsors, back us on Patreon:
https://www.patreon.com/LE_PAPILLON_SOURCE_EL4DEV Actualités du programme EL4DEV / News from EL4DEV program:
http://www.el4dev.com/feed

Association LE PAPILLON SOURCE EL4DEV - LE PAPILLON SOURCE EL4DEV non-profit organization:
https://www.net1901.org/association/LE-PAPILLON-SOURCE-EL4DEV,1874386.html

https://www.gralon.net/mairies-france/gironde/association-le-papillon-source-el4dev-leognan_W332021967.htm